There are lines painted on the floor at the St.Thomas' Boxing Club in Sheffield, England.
Noticeable the moment you step inside the building located opposite the church of the same name in the suburb of Wincobank, these straight lines—some solid, others broken up into specific patterns—are not there for decorative purposes.
Acting as a guide, boxers are taught to move up and down them while throwing punches at thin air. It is a method of improving footwork, one that is simple to perform yet mesmerising to watch from a distance.
Fighters perform in their own bubble, oblivious to what is going on around them.
There could be a dozen doing the same thing at the same time and yet, like traffic in downtown Mumbai at rush hour, they somehow navigate their way around to avoid any collisions.
Junior Witter knows the drill. Now 42, it's not overegging it to say he's done more lengths of the floor than he's had hot dinners.
Yet Witter is still happy going back and forth. Now a decade on from winning a world title, he continues to travel up and down the lines while waiting for an opportunity. "I want to keep going and see what happens," he told Bleacher Report.
The Hitter is one of the many success stories for the Ingles, a fighting family who have nurtured the talents of Naseem Hamed, Herol Graham, Johnny Nelson, Ryan Rhodes and, more recently, Kell Brook.
All of them have paced those lines on the floor, learning the basics of a dangerous sport. As Brendan Ingle will remind anyone who will listen, a boxing ring is a place where you can legally kill someone.

John Gichigi/Getty Images

Witter had just nine days to get ready for his bout with Zab Judah.
He may not be the most famous name of the bunch, but Witter is a shining example of what the Ingle gym is all about.
"Junior probably typifies what people recognise as the Ingle style of fighting," Dominic Ingle—son of Brendan and now the lead trainer in the gym—said. "He's an awkward fighter who can throw from any angle and off any foot.
"He is probably the best version of a switch-hitting boxer we've had. He took it to a different level, because he could box either way at any point. He had it off to a fine art."
Witter may be seen as a prototypical Ingle fighter, but he didn't set foot inside the gym until the age of 22.
Instead, his switch-hitting style was developed during his early teenage years. When he decided to move into the paid ranks, a previous meeting with Ryan Rhodes—another famous Ingle pupil—persuaded Witter to team up with the old enemy.
"I first watched Ryan fight as an amateur when he was about 14 years old. He was this short, stocky kid with massive shoulders who was trying to switch hit. He was awful at it," Witter said.
"Yet when I came up against him he was 18, he had gone from someone who couldn't get the style to someone who had mastered it completely. He was slick and could move. We had a really good fight and he won in the end.
"When it came to turning pro, I just thought if they can do all that with someone who doesn't do it naturally, as Ryan was more of a puncher, a brawler, then they can definitely do something with me. If I'd have gone anywhere else I'd have still switched stances, I just wouldn't have been as good at it."
Dominic's earliest memory of the new boy was a pair of brightly coloured tracksuit pants. Yet while he stood out with his attire, Witter would "go up and down doing his lines while never really saying a great deal."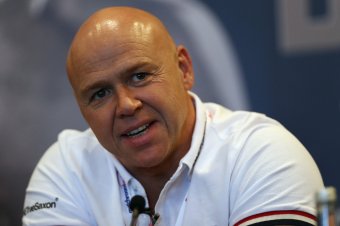 Bryn Lennon/Getty Images

Dominic Ingle is Witter's long-time trainer.
Teamed together with Brendan, the fighter-trainer combination made steady progress before receiving an opportunity out of the blue.
In June 2000, Mike Tyson fought Lou Savarese at Hampden Park in Glasgow, Scotland. As part of the package, Zab Judah—the IBF super lightweight champion—appeared on the undercard at Hampden Park.
Despite having just nine days to prepare for a world-title bout, Witter took the fight: "I just felt it was too good to turn down.
"I struggled with my weight, but the actual fight was easier than I thought. I'd watched him destroying everybody, and I thought I'd get to him one day; I just didn't think it would be that soon into my career.
"But when I boxed Judah, I was inexperienced [it was his 18th pro outing]. I didn't believe in my power. There were some things that weren't quite right with me mentally. If I'd have boxed him again in my very next fight straight after that, I truly believe I would have beaten him."
He never received that immediate chance at redemption. But, with the realisation he could compete at the top of the game, he dropped back down to domestic level and began working his way up the rankings.
He picked up the British, Commonwealth and European titles along the way to becoming the mandatory challenger for the WBC crown.
Even when at the front of the queue, there was still a long wait. After seeing off Lovemore Ndou in a final eliminator early in 2005, his shot at for the title didn't arrive until 18 months later.
However, on September 15, 2006, Witter defeated DeMarcus Corley on points to claim the WBC super lightweight title that had been vacated by Floyd Mayweather Jr.
Ingle recalls how his man "bamboozled" the American that night at Alexandra Palace in London: "I told him not to do anything stupid, because he'd taken such a long time to get there. Junior boxed his head off."
Over six years on from the points loss against Judah, Witter had his coronation in the English capital.
But, just like a roller coaster, while the journey to the top can be tortuously slow, the time at the top is often all-too brief before the drop down the other side. The Englishman's reign lasted just under a year, as he was dethroned by a young Timothy Bradley Jr.
It was a close fight, but Witter was crucially knocked down in Round 6 by a right hand.
"I thought I'd just done enough against Bradley, but my mind wasn't on the game. My dad had been diagnosed with cancer and had just started his treatment," he said. "I'd had four months of running backwards and forwards, dealing with that.
"But it was still close. One punch changed it—normally I wouldn't have got caught with it."
It is now 10 years on from the famous win over Corley, and Witter is waiting again. Time isn't on his side now, but he hopes to get one more opportunity before hanging up his gloves.
The problem is, as has been the case for much of his career, his face doesn't fit. More specifically, Witter is someone other boxers are loath to face, because he's so damned hard to look good against.
He ducks and moves, bobs and weaves, all while switching from orthodox to southpaw in the blink of an eye. There's a bit of bravado thrown in for good measure, but the posturing is all part of the total package.
Ingle describes Witter as an "acquired taste." Plenty of potential foes have rejected the opportunity to step into the ring and give him a try.
But the trainer also praises his charge for his willingness to listen. Witter was the first boxer he'd guided from the early days through to becoming a world champion, giving them a special bond.
In Witter's prime, there was a burning desire to take on Ricky Hatton, his biggest domestic rival in the division. These days, however, he just wants to fight someone, anyone: "I want to box before the end of the year, at welterweight. I want another shot at the British title ASAP."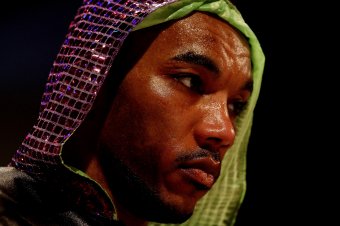 Scott Heavey/Getty Images

Witter is not retiring just yet.
But, as well as continuing to train, Witter is also now training others. He coaches amateurs and does some personal training that involves boxing.
He also does bits of technical work with pros in the gym, although best of luck to any fighter who tries to mimic Witter's unorthodox methods.
With Ingle away at a camp with welterweight world champion Brook, who was preparing to face Gennady Golovkin at the time, Witter was handed the duties of preparing heavyweight David Allen for his British heavyweight title fight against Dillian Whyte in July.
"That's going to be my next step—becoming a full-time trainer," he said.
"But, right at this moment in time, I still have that little chance there [to fight on]. I want to keep going and see what happens. Brendan or Dominic haven't come to me yet and told me it's time to pack it in.
"I'm not getting hit; I'm not getting hurt. I boxed a guy [Timo Schwarzkopf] in Germany in 2013 and I was old enough to be his dad. However, he couldn't touch me. He landed barely six punches in a 10-round fight.
"I'm still fighting fit and able to compete. When it gets to the stage where I'm getting hurt and I'm feeling it, I'll know then that it is time to pack up. However, I'm not there yet."
For a little while longer, Witter will continue to stay ready. Those brightly coloured pants have long gone, but the desire to work hard in the gym has not faded away over time.
It seems the switch-hitter with a style all of his own isn't quite ready to draw a line under his pro career just yet.
Rob Lancaster is a featured columnist for Bleacher Report. All quotes were obtained firsthand unless otherwise stated.