TORONTO — Everywhere he goes in this town, Auston Matthews knows eyeballs, feet and microphones will follow.
He is the Toronto Maple Leafs' first No. 1 overall NHL draft pick since Wendel Clark went No. 1 in 1985. The Maple Leafs have not won a Stanley Cup since 1967, and Matthews knows he's projected by some to be the savior, to be the American from Scottsdale who finally brings the Cup back to a more proper, northern home.
If this is all supposed to faze him, he's done a remarkable job during this World Cup of Hockey of not letting it show. Reporters surround him and hurl questions at him, but Matthews calmly addresses each one, like the veteran city council member ready with an answer for any citizen's question.
And yet, while interest in Matthews is certainly big in these tournament games, it can't accurately be termed "Matthews Mania" here just yet.
That figures to come soon, when the Maple Leafs can start officially selling his jersey, when Matthews actually picks out a number (expected to be his usual No. 34, but for now it's not official) and when Matthews actually takes the ice as a real Maple Leaf. Then, let the frenzy begin.
For now, even Matthews has to take something of a back seat to the rolling band of rock stars that is Team Canada. While Matthews plays on a team with plenty of big names, such as his own and Connor McDavid, Jack Eichel, Johnny Gaudreau, Nathan MacKinnon and Jonathan Drouin, they are still considered to be at the kid's table next to the band of Canadian gods led by Sidney Crosby, Jonathan Toews, Carey Price, Drew Doughty, Steven Stamkos and many more.

Bruce Bennett/Getty Images

That's not to say Matthews, who turned 19 on Saturday, hasn't already made the locals swoon, too. He got the largest cheer of any player during Team North America introductions before its first game Sunday night against Finland. A little more than five minutes into what finished a 4-1 North American victory, Matthews evaded a check along the left wall and burst in on Finnish goalie Pekka Rinne for an assist on Eichel's opening goal.
Watching in the stands was Team Canada coach Mike Babcock, who soon will back to to his real job with the Leafs, and you can bet your bottom loonie that Matthews' play gave him a little thrill.
"We know where our bread's buttered. We know who pays us. We're paying attention to every Leafs player, don't worry about that," Babcock said.
The next night, against Russia, Matthews brought everyone out of their pricey Air Canada Centre seats with his first goal of the tournament. Matthews finished off a two-on-one break-in with McDavid to give North America their only lead of the night in a 4-3 loss despite outshooting the Russians, 46-25.
For Matthews, it was the first time he experienced a loss at the ACC, and there figure to be many more for a Leafs team still in the early stages of rebuilding.
The questions he faces are what any good player faces when they come here: Will he be able to handle the constant attention from the fans and press, especially when things go bad? There are still four daily newspapers in Toronto, not to mention several suburban dailies, all of which cover the Maple Leafs regularly, not to mention the many radio, TV and online media entities with credentials.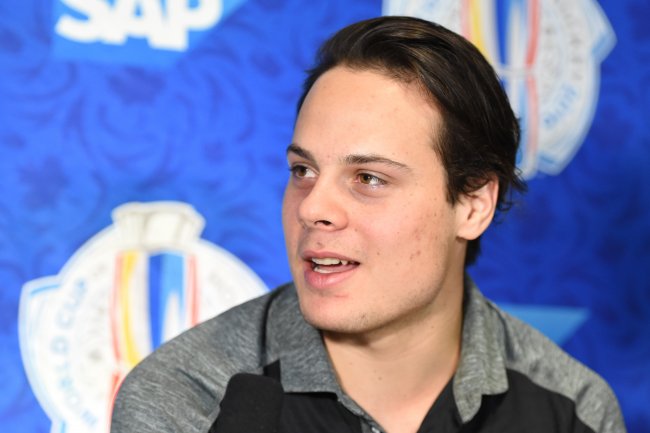 Minas Panagiotakis/Getty Images

On a scale from one to 10, interest in the Leafs is always at 11 around here. But now here comes an American-born player, from Arizona of all places, who is seen as something of a messiah. Is that just too much pressure, too fast?
Steve Simmons has been the Toronto Sun's lead sports columnist for many years and is as curious as anyone to see how Matthews handles being in the voracious Toronto hockey media fishbowl.
"It's impossible to know how anyone is going to react to the Toronto scene, because it is more intense and annoying than anywhere else in the game. Some players love the environment. Some, like Bryan McCabe, have been eaten up by it," Simmons told Bleacher Report. 
"From what I've seen of Matthews so far, he seems rather comfortable in the spotlight, almost like he's been groomed to be a star. He has a confidence about him, a maturity, that is apparent, but he's also put up a wall of sorts to keep his distance in his dealings to date.
"It's clear, he's been well-trained by his people to the new media world. But until he has his first bad week or difficult situation, it's hard to figure how he'll deal with the enormity of it all. He seems like too many of today's young athletes: prepared, modeled, almost robotic."
In the year he spent playing in Switzerland for former NHL head coach Marc Crawford (now an associate coach with Ottawa), Matthews got an early taste of life as a pro, on and off the ice. Crawford did his share of mentoring him on how to deal with the media, and as an Ontario native who got his start through the Maple Leafs system and was a huge fan of the team as a kid, he helped prepare him for what to expect.
Making the rounds with the media this week, Matthews indeed came off as well-trained in what to say. It might have come off as too vanilla to some, but that's the way young athletes are taught to be these days. Don't say anything that might get your name in a bad headline or do damage to your personal or team brand.
"I think this is going to be a fun experience, to represent North America and play at the ACC," Matthews said.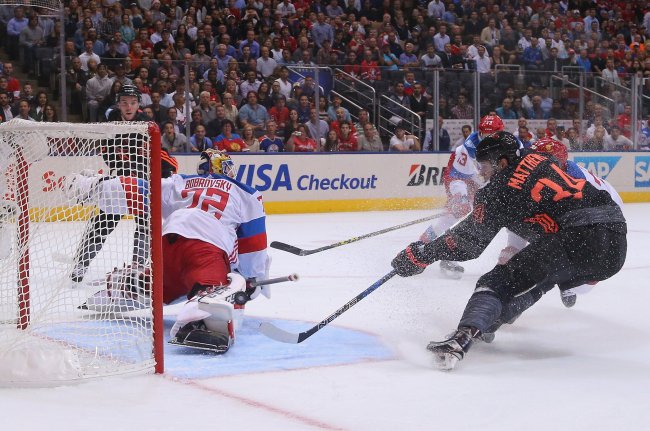 Bruce Bennett/Getty Images

Assuming he makes the Maple Leafs out of training camp, Matthews said he will live with his father for a while in a home somewhere in the city. His mother, Ema, will stay back home in Arizona to tend to her younger daughters. Last year, in Zurich, Ema spent most of the time living with Auston, while father Brian stayed with the other kids back in Arizona.
"I'm just trying to not look too far ahead on anything," said Matthews, a left-handed shot who plays center. "For me, just being in Toronto for this tournament is exciting, and I'm focused more on trying to help my team win here. After that, I'll be putting on the Leafs sweater, and I know that'll be exciting too."
McDavid, who has played mostly on the same line with Matthews so far in the tournament, said the American has "all the tools. He's got so much strength on the puck. It's very hard to get him off the puck, and he's a great passer and really goes hard to the net."
If there is any one area in which critics have tried to throw a little shade at Matthews' game, it's his foot speed. Not that he's slow by any stretch, but he doesn't have the wheels of, say, a McDavid or Dylan Larkin. Then again, few do.
Crawford says Matthews has "deceptive speed, like Jean Beliveau."
"He carries speed very well through the neutral zone," Crawford said. "He thinks fast, and his hands are fast."
For a franchise that has often been accused of living too much in the past, Matthews is its new face moving forward, one that seems to fit the multicultural, demographically trending-younger city of Toronto well. His father is from California, but his mother is from Mexico, and many of Auston's favorite dishes are Mexican classics such as tortilla soup and sizzling chicken fajitas.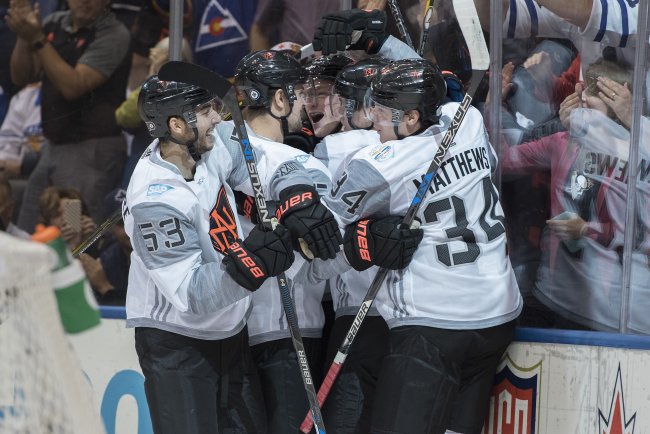 Nick Turchiaro-USA TODAY Sports

"The fans in Toronto are gonna love him," Crawford said. "He cares so much about winning and about his teammates, and those are the kinds of players fans gravitate to."
While a couple of homemade "Matthews 34" blue Maple Leafs jerseys were spotted in the crowd, there were many more of the orange and black "Matthews 34" North America jerseys that retail for a couple of hundred bucks a pop. 
"Auston Matthews, wooooh!" yelled one young woman wearing his North America jersey. "We love him already in Toronto."
By and large, though, most fans around the ACC sported the familiar red-and-white Team Canada jersey with the iconic leaf on the front. Canadians really care about winning international hockey tournaments, so even Matthews and his younger band of brothers have to play second fiddle for awhile to the local heroes.
Matthews will never wear a Canadian jersey. Some day soon he'll be wearing the red, white and blue of America in tournaments such as this. 
But starting later this month, he'll be Toronto's favorite American import.
Adrian Dater covers the NHL for Bleacher Report. Follow him on Twitter @Adater