Charles Coates/Getty Images
Mercedes' Lewis Hamilton edged out team-mate Nico Rosberg to finish fastest in the first practice session at Silverstone for the Formula One British Grand Prix.
The reigning world champion looks in fine form after his win in Austria last time out and made his mark again on his home track on Friday. Rosberg was not far behind the Briton, though, and will feel confident of extending his 11-point lead in the driver standings after a positive start to the weekend.
The drivers will return to the iconic circuit for the grand prix's second practice session later in the day, with Hamilton seeking to preserve his advantage over the field.
Here is a closer look at how things panned out early on at Silverstone and the standings in full from the morning stanza.
First Practice Recap
The F1 Twitter feed provided us with the full results from an absorbing session:
PROVISIONAL CLASSIFICATION – END OF FP1#BritishGP ?? #FP1 pic.twitter.com/w6NbNmdwXO

— Formula 1 (@F1) July 8, 2016
The nascent stages of FP1 were typically edgy, as the drivers sought to find their groove around the British circuit.
Indeed, one of the most notable moments in FP1 was when Ferrari's Sebastian Vettel emerged using the cockpit halo.
Motor racing journalist Gianlu D'Alessandro posted the following clip of the German trying the technology:
Onboard from Seb's car with Halo 2 #Vettel #BritishGP pic.twitter.com/FeRkc9EjeB

— Gianlu D'Alessandro (@Gianludale27) July 8, 2016
It took Mercedes around 20 minutes to come out for a few timed laps. Naturally, once they did, they shot to the top of the leaderboard, with Rosberg first going quickest before he was usurped by team-mate Hamilton, much to the delight of those in attendance on Friday.
For the British drivers, it's always a big weekend, and after finishing in sixth place in Austria for McLaren, all eyes were on Jenson Button to see his pace at Silverstone.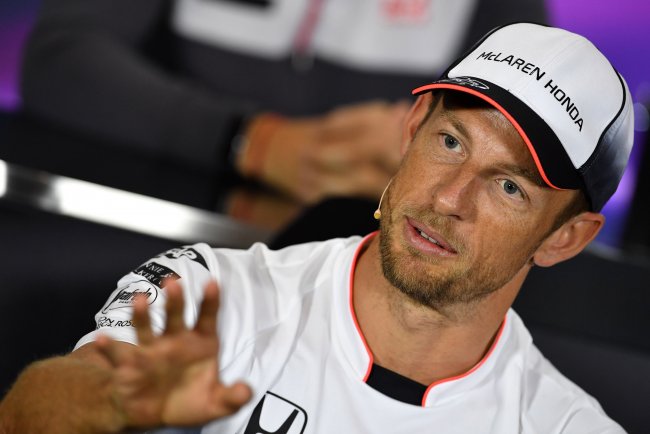 ANDREJ ISAKOVIC/Getty Images

Button will want to continue improving with McLaren.
The team have been making steady improvements after negotiating some choppy waters in recent years, and with another upgrade confirmed ahead of the weekend, they were expected to show strong pace again here. Button finished the morning in 12th, though, while team-mate Fernando Alonso could only muster 10th.
The big battle was always going to be between the two Mercedes men, who traded positions atop of the leaderboard for spells of the session. As Hamilton geared up for a few laps late on, the F1 Twitter feed offered a close up view of the world champion's tyres, before noting some drivers were being a little harsh under braking in FP1:
?? UP-CLOSE: Hamilton's rear left tyre as he prepares to go out for a few more laps in #FP1 #BritishGP ?? pic.twitter.com/1SmQHapAHE

— Formula 1 (@F1) July 8, 2016
"The tyres, guys. Think of those poor tyres…" ?#BritishGP #FP1 ?? pic.twitter.com/Gp1B45v3yt

— Formula 1 (@F1) July 8, 2016
As the session wound down, a focus on pace was substituted for longer runs, and as such, there was little movement in the upper echelons of the leaderboard. It also allowed Nico Hulkenberg to post the third-quickest time in another fine showing for Force India.
Mercedes would have been content with the work done in the opening session, with both drivers impressing; Hamilton was just 0.033 seconds quicker than his team-mate, which points to potentially fascinating qualifying stints and an exciting race. 
Nevertheless, given the competitiveness between the pair, expect both men to do their utmost to manufacture an advantage when they resume later in the day.