Craig Mitchelldyer/Associated Press
Give the Portland Trail Blazers this: They aren't going to roll over.
No, there isn't a high likelihood they'll win their second-round series against the Golden State Warriors—especially with Stephen Curry getting ever closer to a return, which could come as soon as Monday's Game 4.
But in Saturday's 120-108 win at the Moda Center, which cut the Warriors' series lead to 2-1, they proved themselves a worthy opponent to the defending champions.
After they previously blew a 17-point lead in Oakland on Tuesday, the Blazers knew they had missed an opportunity. A win in that game would have stolen home-court advantage from the Warriors and put some serious pressure on Steve Kerr to either rush Curry back or over-adjust his rotations to react.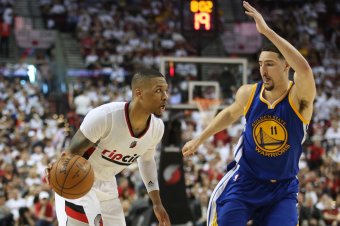 Jaime Valdez-USA TODAY Sports

"I was pretty hot about that one," Lillard said after that game, per Erik Gundersen of the Columbian. "Not only was it a great opportunity but we had it. It was right there."
That comeback win gave the Warriors a cushion—they could afford to drop a game in Portland, or maybe even two, and still sit in the driver's seat of the series. Even with Saturday's loss, the team that has not lost consecutive games all season only must get two of the next four to advance to the Western Conference Finals.
Still, the imminent return of Curry (who is scheduled to participate in three-on-three scrimmaging Sunday, according to Kerr, via ESPN.com's Kevin Arnovitz) is at this point a welcome prospect for the Warriors, who have every incentive to put this series away soon and rest up while the San Antonio Spurs and Oklahoma City Thunder match superpower wits in a battle that could drag out six or seven games.
The Warriors probably don't need Curry to win this Portland series, but they do need him to buy themselves rest and assure this doesn't get too messy. Because this Blazers team isn't going to go quietly, and it's shown an ability all season to correct its mistakes and move past them.
On Tuesday, Lillard scored 17 points in the third quarter and none in the fourth, one of the factors that led to the Warriors' comeback. On Saturday, he got hot and stayed hot, finishing with 40 points on 14-of-27 shooting along with 10 assists, knocking down two momentum-stopping three-pointers in the fourth quarter to stave off what could have been the start of a Warriors run.
In Game 2, Al-Farouq Aminu's costly turnovers in the fourth quarter halted Portland's flow and kept the door open for Golden State to make a run. During Saturday's contest, Aminu had just one turnover and shot 8-of-9 from the field on his way to 23 points, including a fourth-quarter three that helped put the game away.
The Blazers bench continued to outplay Golden State's reserves at both ends of the floor, with Allen Crabbe contributing 10 points off the bench and Ed Davis grabbing 10 rebounds.
For once, the Warriors were the team that was outworked and out-strategized.
Blazers defense has been outstanding since slow start. Dubs bench has been ineffective; other than Ezeli in G2, a trend first 3 games.

— David Aldridge (@daldridgetnt) May 8, 2016
All of which is likely moot if Curry returns.
Without him, the Warriors are very good. With him, they're a planet-destroying juggernaut. And even though the Blazers were one of the nine teams to beat Golden State during the record-breaking regular-season run, they needed a near-perfect night and a career performance from Lillard to do it again Saturday.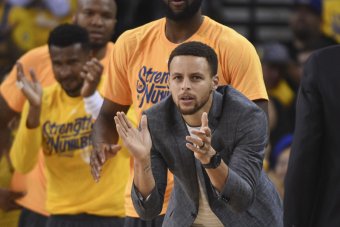 Kyle Terada-USA TODAY Sports

The Warriors will adjust, as they do every time they're hit with adversity. Whether or not Curry plays Monday, the series is still theirs to lose.
But the Blazers are proving themselves a far cry from the checked-out, rudderless Houston Rockets team the Dubs beat in the first round. These Blazers, much like they've done all year when written off as a likely lottery loser, have pushed the short-handed Warriors, exploited their weaknesses and made them earn every ounce of the their 2-1 series lead.
That isn't going to change, which is why the Warriors need to make sure this series is over in five games rather than six or seven. And that probably means bringing Curry back by the next game.