Melissa Majchrzak/Getty Images
The Cleveland Cavaliers have been in need of reinforcements at shooting guard ever since J.R. Smith had thumb surgery, which is expected to sideline him for another few months. They made a major move Thursday when they acquired Kyle Korver from the Atlanta Hawks, according to The Vertical's Adrian Wojnarowski and Shams Charania.
Korver confirmed the move Thursday, per Justin Verrier of ESPN.
The Hawks are expected to receive Mike Dunleavy and then move him to a third team as part of the package for Korver, per Wojnarowski.
Wojnarowski added the Cavaliers and Hawks will continue seeking a third team for Dunleavy before Friday's trade call with the league office, but if none is found the Hawks are willing to keep the veteran.
Cleveland.com's Joe Vardon confirmed the Cavs are finalizing the Korver trade, and he reported more deals are coming. 
Wojnarowski noted the Hawks discussed parameters of a Korver trade with multiple teams, but only the Cavs were willing to part with a first-round pick for the sharpshooter. 
According to ESPN.com's Brian Windhorst, the Cavaliers are expected to send their 2017 first-round pick to the Portland Trail Blazers in exchange for the return of their original 2018 first-round selection in a separate transaction. That move, if approved as reported, would free up the Cavs to deal a protected 2019 first-round pick for Korver without violating the Stepien Rule—which prohibits trading first-round picks in consecutive years—per Windhorst.
Wojnarowski also noted the deal would add an additional $1.3 million to the Cavs' luxury-tax bill for the season.
ESPN.com's Zach Lowe and Yahoo Sports' Dan Devine both noted the trade is a boon for a Cavs team that already ranks second in three-point field-goal percentage (39.1) thanks to the way LeBron James draws defensive attention and generates open looks for teammates:
Kyle Korver getting the kind of looks from 3 LeBron provides is scary. https://t.co/BVl0rDZesi

— Zach Lowe (@ZachLowe_NBA) January 6, 2017
"Shooter on LeBron's Team" is basically the coolest job in sports, so shouts to Kyle Korver, who just got a pretty sick promotion.

— Dan Devine (@YourManDevine) January 6, 2017
Although he hasn't been the same player since undergoing surgery in May 2015 to repair torn ligaments in his right ankle, Korver has regained solid perimeter form following a rusty start to the 2015-16 season that saw him shoot 42.8 percent from the field before the All-Star break.
Despite that brief downturn, it's important to remember Korver—a 42.9 percent three-point shooter for his career—put together a historically efficient 2014-15 season. According to Basketball-Reference.com, he became the first player in league history to drill at least 49 percent of his threes while hoisting at least five long-range attempts per game.
This season, Korver is averaging 9.5 points on 44.1 percent shooting from the field and 40.9 percent from three as Atlanta's starting 2-guard.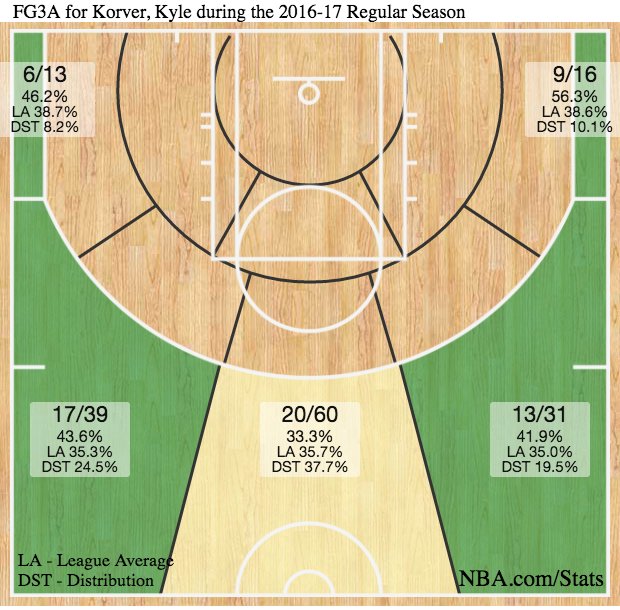 Credit: NBA.com/Stats

Kyle Korver's 2016-17 Shot Chart
Those numbers are respectable, but what's terrifying is the way Korver has thrived when defenders haven't been in his face. According to NBA.com, Korver is shooting 42.1 percent on open threes and 49.0 percent on wide-open treys.
And according to Synergy Sports Tech, Korver has recorded a league-leading 84 effective field-goal percentage on spot-up attempts in the half court this season.
The Ringer's Kevin O'Connor broke down Korver's long-range efficiency:
Korver shoots 39.1% from 3 when contested to 47.9% when he's open (since 2013 / @nbastats). Now he's about to be more open than ever before.

— Kevin O'Connor (@KevinOConnorNBA) January 6, 2017
"The mere risk of Korver getting off a clean shot terrifies opponents, and the defensive respect that terror commands opens the floor up for his teammates," Kirk Goldsberry wrote for Grantland in December 2014.
But even if Korver does underwhelm after changing zip codes, he's one of the least risky acquisitions because of his style of play.
Korver isn't a ball-dominant scorer or volume-dependent shooter, and he fits the mold of a glue player who could help in a big way as the Cavaliers seek to bolster their roster with additional sharpshooters who can thrive off the clean looks James and Kyrie Irving generate.
Plus, Korver is on an expiring contract that's paying out a modest $5.2 million this season.
And considering Korver remains one of the NBA's few role players capable of swinging a game based on the work he does strictly off the ball, he should be a natural fit for a Cavaliers team that will need all the firepower it can get if it meets the Golden State Warriors in the NBA Finals for the third year in a row.
Stats courtesy of Basketball-Reference.com unless noted otherwise. Contract information retrieved from Spotrac.