After Joey Logano dominated the FireKeepers Casino 400, he made a remark that was at once both nonsensical and, perhaps, prophetic.
"The future of NASCAR," Logano said, "is present."

Aaron Doster-USA TODAY Sports

Joey Logano with a Coke and a smile.
Whoa. One day does not a season make. Logano became the first driver under 30 years of age to win a Sprint Cup race this season, and it's impossible for the future to be the present, anyway.
The whole race was a departure from the norm. The drivers who finished second and third—Chase Elliott (20) and Kyle Larson (23)—are even younger than the 26-year-old Logano ,who, while alarmingly youthful, is already a winner of 15 Sprint Cup races.
"Yeah, it's neat to kind of see how it's come along," Logano said:
I'm eight years into this thing. I've been doing it for a while, which it definitely plays into my hand at this point, going through the struggles and maybe getting thrown into a situation too young and too soon and when I wasn't prepared for it. …

Going through all that has really changed me as a person and helped me kind of look at every race situation maybe a little bit different than I used to. I wouldn't change that for anything, because now I'm able to use that for my advantage, and I'm still only 26 years old. I've still got plenty of time left, and Todd [Gordon, crew chief] is going to be here with me and…we're all going to be up there in Victory Lane winning a bunch more.
Summer is when NASCAR fills its Chase, which begins in September at the end of a 26-race regular season. Then everyone keeps racing for 10 more weeks, but only 16 are eligible for the championship that Kyle Busch won last year. Logano became the 10th to qualify by virtue of winning a race this season.
Sprint Cup Race Winners to Date

| | | | |
| --- | --- | --- | --- |
| Driver | Wins | Point Position | Avg. Finish |
| Kyle Busch | 3 | 9 | 14.5 |
| Brad Keselowski | 2 | 3 | 9.9 |
| Carl Edwards | 2 | 4 | 10.5 |
| Jimmie Johnson | 2 | 7 | 12.6 |
| Kevin Harvick | 1 | 1 | 7.1 |
| Kurt Busch | 1 | 2 | 8.5 |
| Joey Logano | 1 | 5 | 11.6 |
| Martin Truex Jr. | 1 | 8 | 12.1 |
| Matt Kenseth | 1 | 10 | 14.7 |
| Denny Hamlin | 1 | 13 | 16.3 |
racing-reference.info
The likelihood is that only 12 or 13 will get the Chase-clinching victory. Dale Earnhardt Jr. is still out there, not to mention rookie Elliott and Larson, neither of whom has ever a Cup race. Three-time champion Tony Stewart is showing improvement but must still win and get inside the top 30 in points—no small task given he missed the first eight races with a back injury.
Stewart remains a long shot—seventh on Sunday at Michigan International Speedway with only one other top-10—but at this point, almost everyone left winless is a bit of a long shot.
#NASCAR …Tony Stewart on radio on Kyle Larson: "He's 1 of the best drivers I've ever seen but he drives about 10% over his @(#*&)@* head.'

— Dustin Long (@dustinlong) June 12, 2016
Elliott, whose father Bill is in the NASCAR Hall of Fame, has finished in the top 10 in six straight races. If anyone knows the distance between first and second, it's him.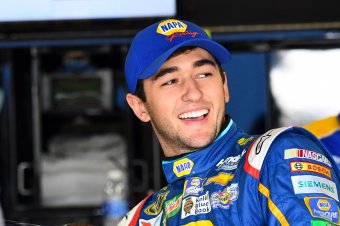 Mike DiNovo-USA TODAY Sports

Six straight top-10 finishes for 20-year-old Chase Elliott.
"I had another fantastic opportunity today, and I feel like I definitely messed that one up for my guys," Elliott said. "You can't do dumb stuff and expect to win. That's just the way life is. That's certainly the way this sport is, and I did dumb stuff, so I can't expect to win."
The kid beats himself up too much. He's sixth in Sprint Cup points, the only driver in the top 10 without a victory. Whether the elusive victory occurs in the remaining 11 regular-season races or not, Elliott is almost a shoo-in to make The Chase. The clincher could come at any time.
The more Elliott calls himself dumb, the smarter he gets.
Here's hoping the experimental aerodynamic package rolled out at Charlotte Motor Speedway for the Sprint All-Star Race, fine-tuned and scheduled for use at Michigan and Kentucky Speedway on July 9, lingers afterward.
What do you think of the latest aerodynamic rules package?
Logano dominated Michigan, leading 130 out of 200 laps. Elliott led 35. Two others led 10.
The racing was still lively. All the cars could be seen sliding and twitching in the turns; Logano just slid and twitched faster and less eventfully. The two ingredients of NASCAR's latest healing tonic are lower downforce and something known as "no rear skew."
Sans rear skew, Logano is 2-for-2. He won the All-Star Race, which doesn't count in the standings because…well, it's an all-star race.
Most drivers seemed to think they never needed "the skew" in the first place.
"That's the sport part of this," Logano said. "It should be a challenge. It should be on the edge. It shouldn't be easy, and at this level it definitely isn't."
The Ford celebration was amplified by the proximity of the Dearborn corporate headquarters and by the fact that it was Roger Penske's 50th NASCAR victory fielding Fords and the 100th Ford victory with a Roush-Yates engine under the hood.
Someone will probably figure out sometime this week that it was the 25th victory of a yellow Ford or something, and then someone will add in the Mercurys from back when they existed, and on and on. Suffice it to say, Ford fans liked it.
.@bobpockrass to @ToddBGordon: "You're two-for-two with no rear skew."

His reply: "Nice rhyme."

— Jim Utter (@jim_utter) June 12, 2016
But the visual spectacle of the racing was much more exciting. It looked like a Michigan race from the early 1990s. Even when it wasn't close, it was wiggly. The cars didn't appear to be riding invisible rails.
"This is a work in progress," Carl Edwards, whose Toyota finished sixth, said to Fox Sports:
I applaud NASCAR for taking downforce away. … They just keep working in this direction, and we're going to keep having better and better races. Those restarts, as crazy as they were, they were actually kind of fun.

That's really up to NASCAR. I'm very happy they're going the direction they're going, but at the end of the day, going back to stock car roots here, we're able to slide the cars around a little bit and work on them and them and drive them. That's really fun.
Then there was Earnhardt, who crashed along with two others on the 62nd lap and wound up 39th in a field of 40.
"It's not a whole lot different than the other package," he said to Fox Sports. "I think we talk about packages too much."
Follow @montedutton on Twitter.
All quotes are taken from NASCAR media, team and manufacturer sources unless otherwise noted.