Andrew Redington/Getty Images
Tom Lewis, Joakim Lagergren and Thomas Pieters all got off to scorching starts at the Made in Denmark tournament on Thursday, setting course records of nine-under 62 at the Himmerland Golf and Spa Resort in Farso, Denmark, to grab a share of the lead.
The three all played nearly flawless rounds on a course that played very easy, and despite their record-setting pace, they only led by a single shot, as Bradley Dredge finished the day eight-under.
Here's how things are shaping up in Denmark on Day 1 after a memorable day on the European Tour and a closer look at how the action panned out.
Made In Denmark: Day 1 Leaderboard

| | | | |
| --- | --- | --- | --- |
| T1 | Tom Lewis | -9 | 62 |
| T1 | Joakim Lagergren | -9 | 62 |
| T1 | Thomas Pieters | -9 | 62 |
| 4 | Bradley Dredge | -8 | 63 |
| T5 | David Lipsky | -6 | 65 |
| T5 | Jake Roos | -6 | 65 |
| T5 | Scott Jamieson | -6 | 65 |
| T8 | Jeev Milkha Singh | -5 | 66 |
| T8 | Richard Sterne | -5 | 66 |
| T10 | Nino Bertasio | -4 | 67 |
EuropeanTour.com
For the full leaderboard, visit the European Tour website.
Recap
Lewis set a scintillating early pace in his round, motoring up the leaderboard with some extraordinary shot-making.
The Englishman began his round at the 10th, where he secured birdie. From there, confidence bristled in Lewis as he notched another six birdies before the turn and an opening nine holes played in just 28 shots.
As we can see, courtesy of the European Tour Twitter feed, his hot streak didn't come to an end there either:
Tom Lewis is now 9 (NINE) under par through 11 holes. On a par 71.

It's time: #59Watchhttps://t.co/WoPmhzcjQz pic.twitter.com/mCohhYC0yY

— The European Tour (@EuropeanTour) August 25, 2016
10 (TEN) under par through 12 holes. With 2 par 5s to come.

Tom Lewis is channeling his inner Jim Furyk. pic.twitter.com/pN0t1IDxUh

— The European Tour (@EuropeanTour) August 25, 2016
He made eagle on the fourth and seemed on his way to sole possession of the lead and a historic round, but three bogeys on the last five holes brought his score back down to nine-under.
As shared by the European Tour, Lewis actually seemed disappointed with his final score:
When you are gutted to shoot 62. pic.twitter.com/hAOxnjlcie

— The European Tour (@EuropeanTour) August 25, 2016
Pieters was in exemplary form earlier in the day, picking up shots at 10 holes. A bogey at the 16th was the only blemish on his card, although the two-time European Tour winner would have been delighted to post a 62.
His mark was matched by Lagergren, who made it through his bogey-less round with nine birdies. The Swede's swing was a joy to watch throughout the day, and he's a player well worth keeping an eye on over the weekend.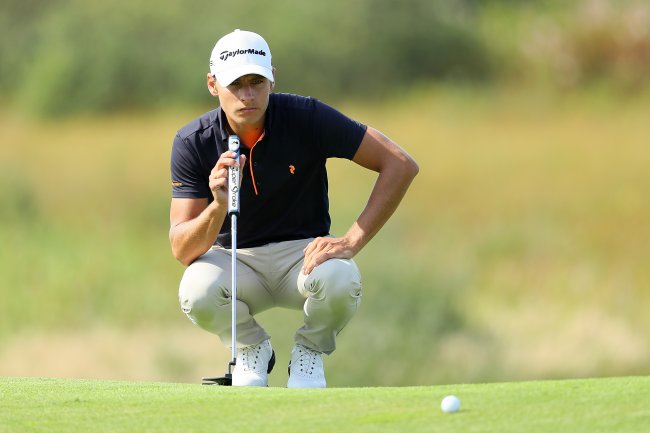 Andrew Redington/Getty Images

Lagergren was flawless in his play on Thursday.
One shot back on Lagergren and Pieters is the 2014 runner-up Dredge, who couldn't hide his love for one of the most picturesque courses on the circuit after an impressive 63.
"It's just really strange, you get it sometimes with a course that just suits you, just suits your eye, you know the greens you just seem to be able to read them and see the ball going in," the Welshman, who was sixth here in 2015, said, per the European Tour website. "I just wish we could play every week but we can't unfortunately."
Additionally, there were plenty of other memorable pieces of play for those at Himmerland to savour on Thursday.
The 16th hole is one of the most iconic on the European Tour and where most of the crowds tend to gather. Those in attendance were treated to a moment of brilliance from Robert Karlsson at the par-three, as his approach to the green was absolutely perfect:
A hole in one at #HimmerlandHill for Robert Karlsson!?https://t.co/6lhF9HByNJ

— The European Tour (@EuropeanTour) August 25, 2016
Arguably just as impressive was an albatross from Scott Jamieson, as the Scotsman needed just two shots to find the bottom of the cup at the 549-yard, par-five fourth hole.
There are plenty of illustrious names in the field in Denmark, too, although none of them have been able to put sustained pressure on the leaders. World No. 40 Andy Sullivan posted 18 pars in succession for a round of 71, while two-time major winner Martin Kaymer produced a solid opening of 69.