The song "Should I Stay or Should I Go" by The Clash sums up the dilemma some of amateur boxing's brightest stars face right now.
After focusing for so long on the Olympics in Rio, Brazil, fighters have to work out what to do next now that the Games are in the rear-view mirror.
While plenty will stick around as amateurs for Tokyo in 2020, others will accept the opportunity to turn pro. It is a well-trodden path, but by no means are the streets certain to be paved with gold.
The Olympics boxing event is a cattle market held ever four years. The best talent is put on parade in the ring for the viewing public to judge their strengths and weaknesses.
The amateurs do not come close to receiving the same level of media exposure as their professional counterparts, so the Games provides a brief window of opportunity to impress promoters and fans alike.
Consider the case of Great Britain's two male medalists from their 12-strong squad in Rio.
Joshua Buatsi picked up a bronze medal in the light-heavyweight category. He created quite an impression during the Games too thanks mainly to winning two bouts by knockout on his way to reaching the semi-finals.
He told Sky Sports News HQ (h/t Nathan Orr of SkySports.com): "I was an underdog, they did not have me down to win a medal. I worked so hard and gave 100 percent to achieve that. To come here and win a medal, I am on top of the world."
The Ghana-born fighter is 23. With a further four years of development and experience, he could be in his prime for the next Olympics.
However, there's a strong case to be made for Buatsi striking while the iron is hot.
He has quickly gone from self-confessed underdog to national hero. A fortnight ago he could have walked down a high street unnoticed—now even Floyd Mayweather Jr. is paying attention to him.
Got to meet the greatest boxer of our generation today, Floyd Mayweather #boxing #olympics… https://t.co/EBEtCshiYz pic.twitter.com/V5wCOo7wae

— Joshua Buatsi (@boxingbuatsi) August 13, 2016
Mayweather Jr.—whose amateur career ended with a bronze medal at the 1996 Games—went so far as to declare Buatsi a "future world champion," per PA Sport (h/t ESPN.co.uk).
Such lifting words must make it hard for the young man to keep his feet on the ground. His stock has never been higher, so why shouldn't he make the most of his sudden popularity and turn pro?
Buatsi wasn't the only boxer to catch Money's eye during his scouting mission to Brazil.
American bantamweight Shakur Stevenson only finished up with a silver medal, yet he may end up striking gold in the future. Per Bryan Armen Graham of the Guardian, the 19-year-old has reportedly signed with Mayweather's promotional company, although an official announcement has yet to be made.
Like Stevenson, Britain's Joe Joyce also came up just short in his final.
The super heavyweight controversially lost out to Frenchman Tony Yoka on points on Sunday, denying Team GB a third gold in a weight class that has only been around at the Olympics since 1984.

Alex Livesey/Getty Images

Super heavyweight Joe Joyce poses with his silver medal.
Unlike team-mate Buatsi, Joyce does not have time on his side. Considering he turns 31 in September, the fighter with a degree in fine arts seems ready to draw a line under his amateur career.
"I'll be turning 35 if I do another (Olympic) cycle. I think that's a bit too long to wait," he told AFP (h/t Yahoo Sports) after receiving his silver medal.
Joyce didn't have to look too far inside the Riocentro for an example of how well things can work out for an Olympic medalist.
Anthony Joshua was at the venue in Rio in a working capacity, providing analysis for BBC Sport's television coverage.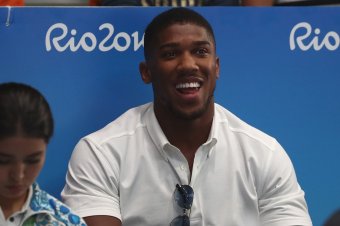 Julian Finney/Getty Images

Anthony Joshua watches on in Rio.
Joshua had stood on top of the super-heavyweight podium at the London Games in 2012. He defeated Italian Roberto Cammarelle on a count-back, with the scores having finished level at 18-18.
Now, four years on and after only 17 bouts, he is a world champion who tops pay-per-view bills on home soil and has just signed a multi-fight deal with American broadcaster Showtime.
It doesn't always work out so well, though.
Audley Harrison is Britain's other super-heavyweight gold medalist. While Joshua was perhaps fortunate to pip police officer Cammarelle, A-Force laid down the law at the Sydney Olympics in 2000.
He was so impressive that the BBC handed him a seven-figure deal to screen his first 10 pro outings.
Harrison, however, could not translate his amateur success to the paid ranks. He did win the European title, but there were some harrowing losses, most notably against David Haye, David Price and Deontay Wilder.
The southpaw, while clearly talented, simply never came to grips with the pro game. Eventually, health concerns forced him to hang up his gloves. It was a relief to all that he had been pushed into retirement.
My interview for @BBCWorld about the success of @TeamGB was interesting … Some think the money guarantees medals, NO talent does that ????

— Audley Harrison MBE (@audleyharrison) August 23, 2016
Harrison and Joshua are two extremes on the scale of what can happen to a successful amateur in the pro game.
For example, James DeGale and Billy Joe Saunders currently hold world titles at super middleweight and middleweight respectively, while Amir Khan went from Olympic medalist to world champion all before he celebrated his 23rd birthday.
Turning pro has always been seen as a way of cashing in on your talent. Nowadays, though, it isn't quite as simple as that, as Joshua told Luke Reddy of BBC Sport:
When you turn pro you're funding yourself, you become your own boss.

You have to find a nutritionist, a physio, training grounds and it all comes at a cost. You have to look at the whole idea of being left to your own devices and finding good people to work with.

You have to look at the system that made you successful and try to use it as a professional.
In the same article, Reddy reveals that a member of the current British boxing team can earn up to £28,000 a year. It is the amateur game in name only.
GB Boxing has a World Class Performance Programme (WCPP) in place to aid their fighters. They work out of a "purpose-built training facility" at the English Institute of Sport in Sheffield, per the official website.
Will Shakur Stevenson win a world title before 2020?
Robert McCracken—best known for working with Carl Froch—is GB Boxing's performance director. There are six full-time coaches, not to mention a plethora of experts in sports science and sports medicine. All bases are covered, down to what you should eat before a fight to how best to recover after the final bell.
The GB Boxing model is much like the Death Star from Star Wars, only if Darth Vader allowed the Jedi to come in and have a look around to see what he was building.
If you head to the pro ranks, that extensive—not to mention expensive—support network disappears. 
Even star names like Joshua and Khan had to start out low down on promotional cards against journeymen merely interested in survival.
That is all part of the learning process—some cope with it better than others. In the end, no matter who is backing you or how much support you have, there is no one else to help you in the ring.
Buatsi, Joyce and the rest of the GB squad are now weighing up the pros (pun intended) and cons.
If they choose to end their amateur days, history tells us there are no guarantees of success.