The Orlando Magic can almost smell, taste and touch the end of their post-Dwight Howard playoff drought.
They started the 2015-16 NBA season at 19-13 and finished with 35 wins—10 more than the year prior. The lean years since Howard's exodus have brought scores of young talent to the Magic Kingdom. This summer could see more of the same, by way of the 11th pick in the 2016 draft and upwards of $30 million in cap space.
Scott Skiles' sudden resignation, as jarring as it was, opened the door for Orlando to find a coach who fit the franchise's long-term vision.
As Magic general manager Rob Hennigan said earlier this month, per ESPN.com:
Sort of the fulcrum of what we're looking for is someone who puts an emphasis on the defensive end of the floor, someone who puts an emphasis on player development and also someone who puts an emphasis on building lasting connections with the players on our roster.
In Frank Vogel, Orlando found someone who fits that description to a tee.
Year in and year out, Vogel's Indiana Pacers were among the league's stingiest defensive squads. As the Orlando Sentinel's Josh Robbins noted, "In his five full seasons as the Pacers' coach, the team finished in the top six in field-goal percentage defense every year and in the top 10 in defensive efficiency every year."
Pacers on Defense Since 2011

| | | | | | |
| --- | --- | --- | --- | --- | --- |
| Defensive Efficiency (Rank) | 100.4 (10th) | 96.6 (1st) | 96.7 (1st) | 100.9 (8th) | 100.2 (3rd) |
| Opponent FG% (Rank) | 43.5% (6th) | 42% (1st) | 42% (1st) | 43.5% (4th) | 44% (6th) |
NBA.com/stats
Over that same span, the Magic slipped into the bottom six in field-goal percentage defense once, peaking at 13th in 2013-14. Meanwhile, Orlando ranked among the bottom 10 in defensive efficiency twice and never finished higher than 14th.
Magic on Defense Since 2011

| | | | | | |
| --- | --- | --- | --- | --- | --- |
| Defensive Efficiency (Rank) | 101.7 (14th) | 104.8 (17th) | 104.8 (17th) | 105.2 (25th) | 104.6 (17th) |
| Opponent FG% (Rank) | 44.9% (15th) | 46.3% (22nd) | 45.6% (13th) | 46.3% (28th) | 46% (20th) |
NBA.com/stats
Helping the Magic narrow that defensive gap will be no easy feat for Vogel. He'll not only have to sort out what kind of defensive scheme works best for this group, but also wrangle into it a roster that was the NBA's sixth-youngest this past season.
"You want to make them enjoy [defense], enjoy the hard work and the reward in getting stop after stop after stop when your shots aren't falling," Vogel told NBA.com Magic reporter John Denton. "We'll do that [in Orlando] because I have confidence that this team has great athleticism and good speed, and I believe that I can mold them into one of the better defensive units in the league."
Vogel will have at his fingertips a collection of players with the physical tools to clamp down defensively. Aaron Gordon, Victor Oladipo, Elfrid Payton and Mario Hezonja are all long-limbed athletes who can traverse the court in a hurry.
Nikola Vucevic doesn't fit that profile, but he can hold his own hanging back in the paint against the pick-and-roll. Vogel, for one, knows how to craft a defense around a center who isn't fleet of foot, as he did with Roy Hibbert.

R Brent Smith/Associated Press

Granted, Hibbert, at 7'2″ with arachnoid arms, could protect the rim just by standing near it. But Vogel brought the best out of Hibbert by building up his confidence. He let the big man out of Georgetown play through his mistakes, without fear of getting yanked out of the game every time something went awry.
That approach helped transform Hibbert into an All-Star and Defensive Player of the Year candidate. Vogel's deft tacts also helped to develop Lance Stephenson into a triple-double king and Paul George into a bona fide superstar, among other success stories.
If you play hard for Vogel and let him coach you, he will have your back.
The youngsters in Orlando will soon discover this and should thrive under these circumstances. As Vogel told Robbins:
The team really reminds me of the team I took over here in Indianapolis, with the young Paul George, Lance Stephenson and Roy Hibbert. Those guys hadn't really seen success at the NBA level, and we were able to just bring a positive energy-and-enthusiasm type of approach to the young talent that they had and we watched them grow. It was really special. I see a lot of similarities with the depth of the young talent that we have on this roster.
That talent figures to benefit just as handsomely from Vogel's guiding hand.
Payton has the potential to be the sort of plus defender that George Hill was for Vogel. Payton also improved as a jump-shooter between his rookie and sophomore seasons, upping his three-point percentage from 26.2 percent to 32.6 percent. With another leap, he, like Hill, could be a legitimate off-ball threat.
Oladipo's game comes with shades of Stephenson's. The former Indiana Hoosier can man either backcourt spot, slash to the hoop and get hot from deep, as he did during his 45-point explosion against the Cleveland Cavaliers in March.
His decision-making and overall play can also go haywire from time to time, as Stephenson's often did in Indianapolis.
In Gordon and Hezonja, Vogel has two multi-skilled athletic freaks he can mold into stars, just as he did with George. Whoever the Magic snag with the No. 11 pick could fit into that category as well.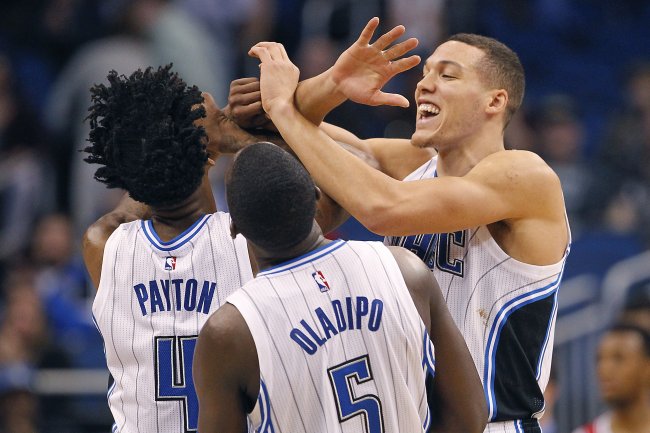 Reinhold Matay/Associated Press

Those four, along with Vucevic and Evan Fournier (pending his free agency), constitute the core that Vogel will be looking to grow with going forward. He won't likely have to chide them into playing hard. For all the youthful mistakes the Magic made in recent years, effort has rarely, if ever, been an issue, be it under Skiles or Jacque Vaughn.
Instead, he can afford these guys room to breathe, to feel out their strengths and weaknesses and establish their respective games accordingly.
Such an exploratory process will take time, of which these Magic have already spent plenty. How Vogel handles his pupils during that incubation period, whether he's able to gain their trust with a looser leash, will go a long way toward determining whether he sticks around long enough to see this group through to fruition.
So will Orlando's next foray into free agency. Come July, it'll have the flexibility to chase high-profile players such as Al Horford, Joakim Noah and Chandler Parsons. And as Bleacher Report's Ric Bucher reported in March, Howard, the team's former franchise player, could have interest in a return this summer.
Even if Orlando strikes out on the market, Vogel should have what he needs, between the talent on his squad and his own knowledge of how to win in the NBA, to put the Magic back on the postseason map.
"This group is ready to make that next jump," Vogel told Denton. "My intention is to come in and make this happen for this group right away and make that jump [to the playoffs] this year. This is going to be a season about being on a mission and winning a lot of games."
Perhaps enough to break the four-year spell spawned by the "Dwightmare."
Stats per NBA.com and Basketball-Reference.com unless otherwise cited.
Josh Martin covers the NBA for Bleacher Report. Follow him on Twitter, Instagram and Facebook.