Justin K. Aller/Getty Images
Had the Washington Capitals known entering Game 3 that they would outshoot the Pittsburgh Penguins 49-23, they likely would have felt reasonably confident of victory.
Similarly, had the Capitals known that the official scorer would record a 58-25 advantage in hits for Washington, they probably would have expected their physical play to be a big factor in the game.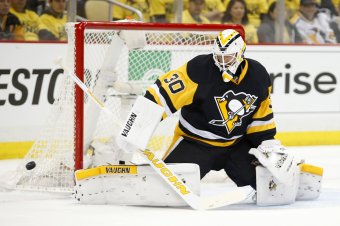 Justin K. Aller/Getty Images

Matt Murray
Instead, it was the Penguins who took a 2-1 series lead thanks to a 3-2 victory featuring some fortunate bounces and strong goaltending by rookie Matt Murray.
And for all the hits by the Capitals, it was a check by Pittsburgh defenceman Kris Letang that was the most memorable physical play in the contest.
Depending on how the NHL's Department of Player Safety reacts, Letang could have undone much of the good work the Pens did in taking the series lead.
That's not to say Pittsburgh played a particularly beautiful game.
Patric Hornqvist got his stick on Trevor Daley's point shot less than seven minutes in, making for a perfect redirection past Braden Holtby. Tom Kuhnhackl's goal was even flukier, as Matt Cullen's pass bounced off his back and into the net.
After two pinball-style goals for Pittsburgh, Washington took over. The shot count tilted 35-15 in the Caps' favour in the final two periods, and that was almost enough.
Two goals in the final frame brought the Capitals to within one, but they couldn't quite notch the third necessary to tie the game.
That's because in between getting dominated, the Pens' red-hot line of Phil Kessel, Nick Bonino and Carl Hagelin connected for one of the prettiest goals of the playoffs:
much better look at it pic.twitter.com/B4PwQ8wLb7

— Stephanie (@myregularface) May 3, 2016
Kessel tied Ben Lovejoy with a team- and game-high two takeaways—with the steal that kicked off that tic-tac-toe scoring play by far the more important of the two. The goal gave the Penguins a 3-0 lead. They needed that entire margin for error.
Still, it isn't the two third-period goals against or the ugly shot numbers that should most concern Pittsburgh in the aftermath of Game 3. It's the potential fallout from Letang's hit on Washington forward Marcus Johansson:
Letang gets only 2 mins for interference for this hit on Johnasson pic.twitter.com/gK8wppEsU0

— Stephanie (@myregularface) May 3, 2016
It's certain the NHL will look at the hit, but less certain is how it will react.
As Stephanie Vail noted, Letang took a two-minute minor for interference, but that's hardly sufficient discipline for a hit on which Letang a) nailed a player without the puck, b) caught said player in the head while he was unaware of the incoming check and c) left his feet.
There's also some important context.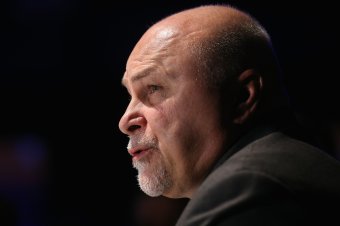 Bruce Bennett/Getty Images

Barry Trotz
Washington defenceman Brooks Orpik was suspended three games for a hit on Olli Maatta in Game 2 of the series, and Capitals head coach Barry Trotz rather obviously implied that the length of the punishment was connected to his team's opponent.
"I'm disappointed, but I'm not surprised based on who we're playing and all that," Trotz said, per Puck Daddy's Greg Wyshynski. "So we'll just move forward."
Asked to explain his comment, Trotz told reporters to "take it for whatever you want."
Additionally, Letang avoided suspension in the first round after striking New York Rangers forward Viktor Stalberg in the face with his stick. That prompted the New York Post's Larry Brooks to suggest that the league was more serious about punishing throat-slash gestures than actual slashes to the throat. His conclusion bears a striking similarity to Trotz's:
[T]he officials either did not see, chose not to see, or chose to misinterpret three distinct dangerous and reckless plays perpetrated against the Rangers by the Penguins.

It is becoming as much of a pattern as the NHL's leniency-based justice system that denies justice to victims and gives aid and comfort to the perps … and an advantage to their teams.
Given the nature of the incident, Letang's recent history and the perception of how Pittsburgh is treated by the NHL, it seems unlikely he'll escape unscathed a second time.
That could be a real problem for the Pens. Letang has seven points in eight playoff games—just one less than the rest of Pittsburgh's blue line combined. He's played more than 29 minutes per game—the only other Penguins defenceman averaging more than 20 minutes per game is Chicago castoff Trevor Daley.
The next-busiest Pittsburgh defender is Brian Dumoulin, who entered the season with 14 games of NHL experience and is averaging just north of 19 minutes per game in the playoffs.
No team is ever excited about the possibility of losing its No. 1 defenceman, but the Penguins in particular will be vulnerable if Letang is suspended for any substantial length of time. That may be precisely the opportunity Washington needs to negate the lead Pittsburgh just opened up.
Statistics courtesy of NHL.com and Natural Stat Trick.

Jonathan Willis covers the NHL for Bleacher Report. Follow him on Twitter for more of his work.