The Houston Rockets tore the Minnesota Timberwolves apart Monday and, in the process, kept their playoff plans together.
The 129-105 victory was decided early, with Houston jumping out to a 38-21 first-quarter lead powered by sources expected and otherwise. James Harden tallied 15 of his 34 points in that opening period, which was to be expected against a generous Minnesota defense. But Dwight Howard's 11 first-quarter points on six field-goal attempts was surprising.
Howard's night ended with 19 points on 8-of-11 shooting. It was his highest scoring night since a 21-point outburst against the Philadelphia 76ers way back on March 9. For a player so severely marginalized this season, it was encouraging to see Howard occupying a larger role when his team needed it most.
Howard also showed up on defense, helping hold Karl-Anthony Towns to two points on 1-of-7 shooting in the first half. Though the surefire Rookie of the Year finished with a dozen points, most of his scoring came in extended third-quarter garbage time.
With Harden and Howard carrying the load in a must-win game, the Rockets got to rest throughout the fourth quarter.
They can't, however, relax.
The Utah Jazz's home loss to the Dallas Mavericks means the Rockets cannot finish seventh, but they can control their own destiny. If the Rockets win out, the tiebreaker they hold over the Jazz will come into play. Assuming Houston knocks off the Sacramento Kings to close out the season Wednesday, it'll take the No. 8 spot, leaving the Jazz out in the cold regardless of what they do in their final game.
The Latest On the West Playoff Race

| | | |
| --- | --- | --- |
| 7. Dallas Mavericks | 42-39 | 30 |
| 8. Houston Rockets | 40-41 | 32 |
| 9. Utah Jazz | 40-41 | 32 |
NBA.com
Maybe it's harsh to say so, but it doesn't feel like the Rockets deserve to be in this position.
Conference finalists last year, no team squandered more talent or fell shorter of expectations than this one. And even if we build in the acknowledgment that Houston was a little lucky to steal that semifinal series against the worn-out Los Angeles Clippers (while also amassing a regular-season record better than their peripherals warranted), nobody saw this coming.
The Rockets are fighting for their playoff lives, and they have no one to blame but themselves.
Harden got off to a slow start after a summer spent amassing extra pounds and canoodling with Kardashians. And as he worked his way into shape, Howard worked himself out of a primary role on the team. By the time Kevin McHale took the fall for a tuned-out roster's terrible record, it was clear Houston had systemic problems.

David Phillip/Associated Press

Perhaps part of the disappointment is our fault. We should have seen the luck last year and pegged this team for a significant decline—especially given the lack of leadership apparent in 2014-15. But the vibes have been bad in Houston all season, and the defensive effort has been inexcusable. After ranking sixth in defensive efficiency last season, they check in at No. 22 this year—with virtually identical personnel.
This is on them.
Houston lost a coach, the faith of fans around the league and its status as a contender. But now, with just one game left against a Sacramento Kings team mailing in the season, it may yet win itself a playoff spot.
And if the Rockets sneak in at No. 8 in the West, they'll get the historically dominant Golden State Warriors in the first round.
That'll balance the karmic scales in a hurry.
LeBron Seems Ready

Ken Blaze-USA TODAY Sports

In his last two games, LeBron James has totaled 67 points on 33 shots while hitting seven of his nine three-point attempts.
He went for 34 points on 13-of-16 shooting in a 109-94 win over the Atlanta Hawks on Monday, punctuating the action with plays like this:
So, yeah, it looks like James is in a good place with just one more game on the schedule ahead of the playoffs. His Cleveland Cavaliers are where they want to be as well, having clinched the East's No. 1 seed with the victory against the Hawks.
All of the social media missteps and locker room unrest didn't derail Cleveland's season. And if we learned anything last year, it was this: James' play is all that matters for the Cavs. If he's healthy and in a good rhythm, nobody in the East will keep Cleveland out of the Finals.
Somehow, Some Way, Dallas Did It
With 22 points, 11 rebounds and a block worth watching on a loop for a solid 15 minutes, Dirk Nowitzki powered the Dallas Mavericks to a truly improbable playoff spot.
Deron Williams' (possibly revenge-fueled) 23 points, six assists and four rebounds helped, as did Wesley Matthews' 20 points. But it was Nowitzki, playing in his 18th season and draining rafter-scraping jumpers like always, who guided the Mavs to a 101-92 win at Utah.
The love, deservedly, poured in, via Paul Flannery of SB Nation and Zach Lowe of ESPN:
22 and 11 in a must-win game on the road. Dirk forever and ever.

— Paul Flannery (@Pflanns) April 12, 2016
Dirk, Carlisle, Mavs, playoffs, every damn year, no matter what. What a crusher for Utah. Houston in prime position to back in vs tank-Kings

— Zach Lowe (@ZachLowe_NBA) April 12, 2016
The Mavericks are now 8-4 since Chandler Parsons went down for good with a knee injury, and they've had to win six of their last seven to secure the 15th postseason berth of Nowitzki's career. No matter what happens in Dallas' final game, it can't finish worse than seventh in the West.
There's a flip side to the Mavs' happy ending, and it's this: The Jazz now need help to survive.
The Rockets must lose to the Kings on Wednesday (and Utah has to beat the Los Angeles Lakers) in order for Gordon Hayward and friends to steal the eighth seed.
This is not an enviable position, per Zach Harper of CBSSports.com and Dan Devine of Yahoo Sports:
The Jazz just need to rely on George Karl coaching his heart out in the final game of the season. That's all.

— Zach Harper (@talkhoops) April 12, 2016
"You're hoping Sacramento comes to play in Houston" is a dark place for the Jazz to be.

— Dan Devine (@YourManDevine) April 12, 2016
Utah was laid low by injuries all year, so it's somewhat fitting that Rudy Gobert's second-quarter ankle sprain and Derrick Favors' sore knee cut the legs out from under its playoff hopes.
Barring something shocking, it looks like the Jazz's arrival as an up-and-coming power will have to wait until next year…again.
The Hornets Travel Well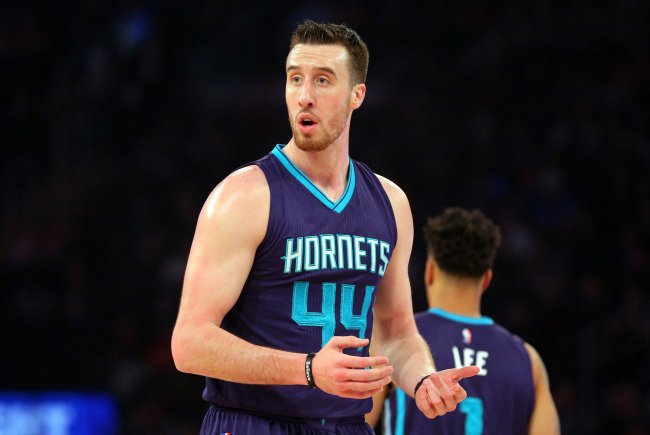 Brad Penner-USA TODAY Sports

Sure, the Charlotte Hornets were on the road against the Boston Celtics, who had won 18 of their last 20 games at home coming into Monday's meeting. And yes, the Celtics had been the slightly hotter team over the preceding 10 games (7-3, a tick better than Charlotte's 6-4).
But with support of the kind MassLive.com's Jay King observed, how could the Hornets not be inspired to snatch a critical road win?
We've got a dude in a Wisconsin shirt chanting "Frank the Tank" here by himself so that's happening too.

— Jay King (@ByJayKing) April 12, 2016
Thanks to a devoted (but also probably lonely) cheering section, Frank Kaminsky's team got it done in Boston, winning 114-100 behind a monstrous second-quarter run led by Jeremy Lin. Lin scored 25 in the game, with 20 coming in the first half, and his play keyed a 22-1 second-quarter surge that turned a close game into a blowout.
Kaminsky, for what it's worth, scored eight points and grabbed seven boards.
The repercussions are big. Charlotte's chances at home-court advantage in the first round are gone, so it's a good thing they proved they could win on the road Monday. The Celtics hold the tiebreaker against the Miami Heat, who play Tuesday against the Detroit Pistons before finishing out the season at Boston. If the Celtics win that game, they're safe, per play-by-play man Sean Grande:
Reminder…barring some bizarro world four-way tie, a win over Miami Wednesday night will get the Celtics the 4-seed.

— Sean Grande (@SeanGrandePBP) April 12, 2016
The Hawks, who fell to the Cavaliers, were the big winners Monday. They're assured of either the third or fourth seed and home-court advantage in the first round—no matter what happens with the Hornets, Celtics or Heat the rest of the way.
It only took 81 games, but we're finally getting some clarity in the middle of the East playoff race.
The Kings Keep Kinging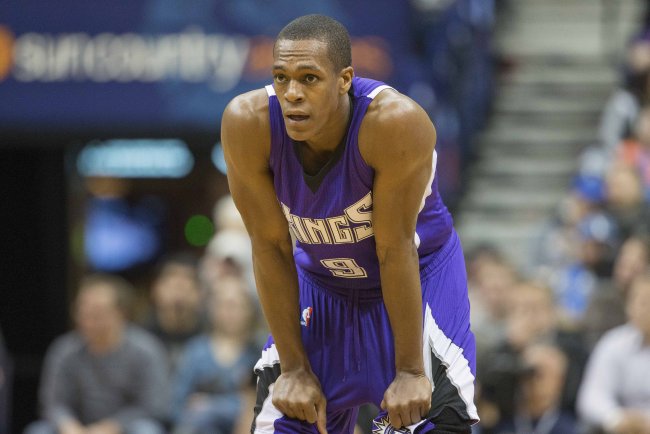 Jesse Johnson-USA TODAY Sports

As of April 1, the Sacramento Kings' playoff hopes were officially nonexistent. But any sensible observer knew the postseason was a pipe dream at some point in December. And for the Kings, a franchise that hasn't played beyond the regular season since 2005-06, the familiar scent of imminent failure should have been recognizable early enough to take appropriate action.
The tank should have been on a long time ago.
But these are the Kings, and they're not about sense.
Case in point: They only decided to rest starters with two utterly meaningless games left, per James Ham of CSNBayArea.com: "DeMarcus Cousins, Rajon Rondo and Darren Collison have also stayed home for the team's remaining two games, effectively ending their seasons early."
Maybe we shouldn't be so hard on the Kings. They've waited until it's too late, but at least they're doing the right thing. With their 2016 first-round pick owed to the Chicago Bulls (but unlikely to convey because of a top-10 protection) and subject to swap rights with the Philadelphia 76ers (though the exchange probably won't happen because the Sixers' lottery odds are better), the Kings are in a decent spot and likely to keep their pick.
But they could be in a better one—if only they'd taken the long view.
And because they're the Kings, the quest for pingpong balls went awry. Seth Curry erupted for 20 points and 15 assists, playing 38 minutes in a 105-101 win. You can't make this stuff up.
Tune in next year when the Kings keep doing the wrong thing…or keep waiting until it's too late to do the right one.
Kobe and Russ Go Out Guns Blazing
When you get into a firefight with Russell Westbrook and the Oklahoma City Thunder, you'd better bring the heavy artillery.
Kobe Bryant started out the final road game of his career gunning, taking eight shots in the first nine minutes, banking in a three (possibly on purpose) and completing the first quarter with 13 points.
He would play just seven more minutes in the game.
Russell Westbrook did a lot more with his limited playing time, amassing a triple-double in the first half of OKC's 112-79 win.
In. The. First. Half.
That doesn't happen often, per Royce Young of ESPN.com:
Westbrook put this triple-double up in 18 minutes, fastest of his career. Just one minute off the fastest in NBA history (Jim Tucker, 1955).

— Royce Young (@royceyoung) April 12, 2016
Westbrook finished with 13 points, 14 assists and 10 rebounds in 28 minutes. And the triple-double, his 18th this year, put him in truly rare company, per ESPN Stats & Info:
Russell Westbrook (OKC): 18th triple-double of season, ties Magic Johnson (1981-82) for most in a single season in last 40 years.

— ESPN Stats & Info (@ESPNStatsInfo) April 12, 2016
Kevin Durant (ho hum) scored 34 points in 27 minutes, extending his streak of scoring at least 20 to 64 games. Kobe's longest such streak was 63.
There's something kind of poetic about Westbrook, whose intensity and occasionally self-destructive competitiveness come closer to mirroring Bryant's than any other star of this generation, showing the old man what a blaze of glory really looks like. And there's a weird synergy to Durant, one of the best pure scorers in the league, surpassing the record of the guy who held that title for years.
Kobe had good things to say about both, per Young and Anthony Slater of the Oklahoman:
Kobe on Durant: "He has no flaws in his game."

— Royce Young (@royceyoung) April 12, 2016
Kobe said he sees 'a ton' of similarities between he and Westbrook pic.twitter.com/8uJPdLVKkI

— Anthony Slater (@anthonyVslater) April 12, 2016
The farewell tour ends at home Wednesday against Utah. Bryant will get one more chance to show off before officially stepping away.
He'll leave the league in good hands.
Follow @gt_hughes on Twitter.
Stats courtesy of NBA.com. Current through games played April 11.