When it comes to the transfer market, Borussia Dortmund have earned an excellent reputation.
Keeping the Black and Yellows among the top 15 or so clubs in European football despite regularly losing the best players to teams with more financial firepower requires a keen eye and shrewd investments. The margin for error is smaller than, say, Bayern Munich's or Real Madrid's.
By and large, Dortmund's decision-makers—transfers are executed by sporting director Michael Zorc but agreed upon by him, chief executive Hans-Joachim Watzke and head coach Thomas Tuchel—have done well in identifying transfer targets and closing deals.
Whether they are "the undisputed kings of the transfer market," as Squawka put it in the summer, is a question everyone has to answer on an individual basis. In any case, though, bad decisions from Dortmund are so rare that they stick out like a sore thumb.
Of the current crop of players who arrived at the Westfalenstadion at the start of the season, Sebastian Rode has all the makings of such a miss on the transfer market for the Black and Yellows.
The club was in a difficult situation in the summer, having seen three world-class players depart for greener pastures in team captain Mats Hummels, midfield mastermind Ilkay Gundogan and Henrikh Mkhitaryan—by all accounts, the team's best player last season.
They answered those losses by signing no fewer than eight players, mostly talented youngsters with little experience. While not all of those talents have emerged to this point—defensive all-rounder Mikel Merino has played only one game, for example, while attacker Emre Mor struggles to make the squad these days—they have at least indicated their vast potential and suggested they can become difference-makers.
More seasoned signings Marc Bartra, Mario Gotze and Andre Schurrle have played when health and fitness have permitted and can be considered regulars, even though they have yet to find a consistent level.
Inconsistency is not something Rode can be accused of. He has been consistent—but consistently average, at best.
The 26-year-old, signed for €12 million, per Transfermarkt, was brought in to add another dimension to Dortmund's midfield after the Black and Yellows lacked some power and aggression in the middle of the park during Tuchel's first year at the club.
A determined runner and physical box-to-box midfielder, Rode was never going to replace Gundogan in a creative role; rather, the hope was that he would give his head coach another option with strengths in pressing and counter-pressing.
A player such as the former Bayern Munich man, so was the thinking, could have helped in the dramatic UEFA Europa League collapse at Anfield against Liverpool, when Dortmund squandered a two-goal lead with 33 minutes to go to crash out of the quarter-finals after being heavily favoured to win the competition.

Lintao Zhang/Getty Images

Rode impressed against Manchester City in pre-season.
During pre-season, those hopes looked justified. Rode was in impressive physical shape and played well in friendly matches. He was arguably the best player on the pitch against Manchester City, for example, when he not only put in tone-setting challenges defensively but also constructed a number of attacking moves.
Once the season started, however, the 26-year-old failed to deliver complete performances of that kind. He still looked strong as a ball-winner and remained a physical presence in central midfield, but his overly conservative passing is to the detriment of the team's attacking play.
Rode's reluctance to play balls forward with any kind of conviction has turned into a running gag on social media. One can notice a ubiquitous groan whenever he is in the starting XI or enters the pitch as a substitute.
His lack of quality on the ball makes him an odd fit for most games Dortmund play, with opponents usually content with leaving possession to the Black and Yellows while man-marking principal buildup player Julian Weigl.
Leaving responsibilities on the ball to Rode makes the entire team more predictable, as he will always choose the simplest pass available. Even worse, his decision-making under pressure is a weakness that can put the team's defence in danger, as was evident in the Bundesliga loss to Eintracht Frankfurt.
The Yellow Wall's Luca Gierl took it with gallows humour on Twitter:
I call this piece of art: on Rode to conceding a goal. Welp… pic.twitter.com/tNDdxL1yaC

— Luca Gierl (@LucaGierl) November 28, 2016
Rode's deficiencies on the ball relegate him to a part-time role, as a closer look at his usage reveals. He has been part of the team 19 times, missing only one match because he had his appendix removed, and has appeared in 16 of those games. Only Ousmane Dembele, Weigl, Sokratis Papastathopoulos, Pierre-Emerick Aubameyang and Gonzalo Castro have played in more games.
However, Rode has been on the field for only 791 minutes, roughly 43 per cent of the time. Even though €12 million is not what it used to be for a club of Dortmund's size, they likely expected more from the signing.
Seeing as he was one of the more experienced men to join the team in the summer and talked about his desire to become a leader in a press conference (link in German) early in his Dortmund career, it is safe to assume that both club and player are unsatisfied with the returns of the transfer to this point.
Of course, the situation is not unsalvageable. Rode would not be the first player who took his time to get up to speed with Dortmund. Even experienced signings can struggle with transfers to the Westfalenstadion. Castro is a fine example; the 29-year-old only became an important player toward the end of his first season with the Black and Yellows.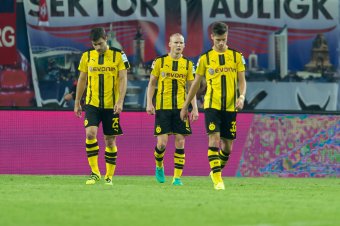 TF-Images/Getty Images

Sokratis, Rode and Weigl trotting off the field after a deserved defeat at Bayer Leverkusen.
Perhaps it is even unfair to judge Rode on his first few months with Dortmund. The major squad turnover in the summer was always going to lead to problems this season, not only for the new signings. Even someone such as Weigl, a paragon of consistency in his maiden campaign at the top-flight level last season, is struggling to hit his best in many games so far.
However, most players who did not work out straight away at least indicated their potential. Gundogan, for example, found himself in the stands during his first half-season at Dortmund, but he displayed the technical abilities and football intelligence that would later make him one of the best central midfielders in the game.
Not only is Rode five years older than Gundogan was at the time—and, as such, does not have the same room to grow—but he also has not even hinted at qualities Tuchel will find a good use for in a vast majority of games the 43-year-old has to prepare his team for.
Rode was considered a safe, what-you-see-is-what-you-get signing in the summer, but it simply feels as though Dortmund misjudged his fit in the current setup. There is no natural role for the former Bayern man in Tuchel's preferred style of play.
That is not to say he is a bad player. On the contrary, Rode would likely be talked about as one of the better players in the Bundesliga if he played on a team that accentuates his strengths. Put him in a side like Cologne, and there is every chance some pundits would demand the midfielder get an invitation to the German national team.
For Dortmund, however, he seems a rare miss on the transfer market—early days notwithstanding.
There are some parallels to the last big-money flop the club signed in Ciro Immobile. The Italian striker was also brought in when a world-class player left in Robert Lewandowski, costing Dortmund a substantial €18.5 million fee from Torino.
Rode is an entirely different player from Gundogan, so it is unfair to expect him to be a replacement for the former star. The same was true of Immobile and Lewandowski, who are two entirely different strikers. 
Much like Rode, Immobile was supposed to add aggression and power to the team, with then-head coach Jurgen Klopp hailing him as a "real warrior" at the time, per Goal's Peter McVitie.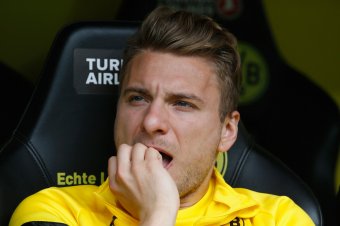 Boris Streubel/Getty Images

Ciro Immobile's time at Dortmund was a giant misunderstanding.
It was clear quickly, though, that the Serie A Capocannoniere and Dortmund were an odd fit, with Immobile scoring only three league goals for the club.
The 26-year-old spent all of one year at the Westfalenstadion, as both sides realised his signing was one big misunderstanding.
The same does not have to happen for Rode—not least because, unlike Immobile, he fits into the squad on a personal level—but he has to improve dramatically if he does not wish to be considered Dortmund's next flop signing.
Lars Pollmann also writes for The Yellow Wall. You can follow him on Twitter.