LOS ANGELES — Kobe Bryant led the Los Angeles Lakers with 28 points and 12 rebounds in a February 9, 2016 road win over the New Orleans Pelicans.
It was nine months before the Lakers won another road game.
On Wednesday night in Atlanta, L.A. ended its 16-game losing streak on the road, upsetting the previously undefeated Hawks (3-1), 123-116.
The Lakers (2-3), playing on the second night of a back-to-back after losing to the Indiana Pacers on Tuesday, had fallen behind the Hawks by 12 points early in the third period. A 72-point second-half barrage helped gut out a badly needed road victory.
"We got tired of losing," second-year guard D'Angelo Russell said after the game on the Spectrum SportsNet broadcast. "We fought the previous games. We fought but just didn't finish."
The road monkey's off their backs just in time, because the next big test for these young Lakers is at home.
They draw the Golden State Warriors (4-1) on Friday night at Staples Center, the best team in the Western Conference over the last two years. After losing on opening night to the San Antonio Spurs, the Warriors have reeled off four-straight victories, including a 122-96 win over the Oklahoma City Thunder on Thursday night.
All-Star forward Kevin Durant poured in 39 points during just 31 minutes against his former franchise, hitting seven three-pointers in a rout.
A Lakers win over the mighty Warriors would be a significant accomplishment, especially for a young team trying to establish itself as a competitor in the West.
The win in Atlanta was an important sign that the group is stepping forward: The Lakers were the first NBA franchise to play four games away from home this season. And in addition to Atlanta, the team had opportunities to win late during each of the previous three losses to the Utah Jazz, Oklahoma City Thunder and Indiana Pacers. 
"We've been in every single game we've played in and had leads in fourth quarters against good, playoff-caliber teams," head coach Luke Walton said. " I think you just keep learning from the mistakes that you make."
The Lakers are relying on youthful players like Julius Randle, Brandon Ingram, Jordan Clarkson, Larry Nance Jr. and Russell. Costly mistakes are an expected part of the process, but the team found some heat Wednesday, shooting 57.1 percent in the fourth quarter.
Outpacing the Hawks, 33-22, over that stretch, the small-ball combination of Randle and Nance came up big defensively. Veteran guard Lou Williams helped carry the scoring, pouring in 16 points during the period, but it was Randle's block on Atlanta point guard Dennis Schröder with 38.3 seconds left on the clock that was the play of the game.
Wednesday was a good warm-up to what awaits these young, post-Kobe Bryant, rebuilding Lakers Friday: Atlanta and Golden State expect to be playing deep into the playoffs.
The Warriors are the league's highest-scoring team at 115.4 points a night. The Lakers will have their hands full trying to both slow down and keep up with the Golden State machine.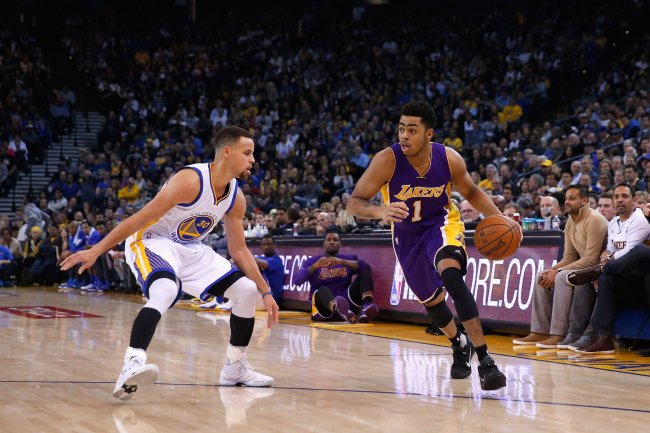 Ezra Shaw/Getty Images

Adding Durant to a roster that already featured Stephen Curry, Klay Thompson and Draymond Green may seem unfair, but players have the right of free agency, and the Warriors were able to lure Durant away. He is already the team's leading scorer at 28.5 points a game, followed by Curry's 25.2. Naturally, Curry is still a marksman from deep, hitting 43.2 percent from three-point range. Durant (41.7 percent) isn't far behind him, but Thompson (19.4 percent) and Green (26.7 percent) are off to slow starts.
Like the Lakers, the Warriors need some time to come together. Unlike Los Angeles, Golden State can still win four of five while "finding themselves."
Armed with four All-Stars, the Warriors still manage to play an unselfish brand of basketball, one the Lakers aspire to emulate. Walton sat on head coach Steve Kerr's bench for two years and now hopes to bring a similar spirit of team kinship to Lakers culture.
So far, it's working: Russell is the team's highest scorer at 16.6 points a night, but Los Angeles has four others averaging double figures, including Williams (14.6), Clarkson (14.4), Randle (12.6) and Nick Young (12.4).
The Warriors' stars can be a joy to watch offensively, but they are also a serious force defensively, at least over the past two seasons. The Lakers are still a work in progress on both ends, though they have shown impressive flashes so far this season.
Perhaps the Lakers will catch a tired Golden State on Friday after its win over Oklahoma City in Oakland on Thursday.
Coincidentally, the Lakers' last winning streak was in early March of last season, when they upset the Warriors at Staples Center, followed by a win over the Orlando Magic.
After Golden State, the Lakers draw the Phoenix Suns (1-4) and Dallas Mavericks (0-4), two struggling teams. A victory on Friday could open the door for L.A. to notch four straight.
Taking down the Warriors may not be likely, but the Lakers have already shown more of a fighting spirit than last year's squad, a team that lost 21 of their first 24 tries and won just 17 on the entire season.
Lakers Insider Notebook


Timofey

Mozgov

Ailing
The Lakers took on the Hawks without veteran center Timofey Mozgov, who was injured in the team's loss to the Pacers.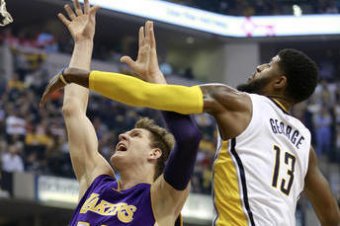 R Brent Smith/Associated Press

First Mozgov took an elbow from Jeff Teague, needing four stitches to close a bloody lip. Soon after, Lavoy Allen poked Mozgov in the eye. But there's good news for the Russian center: A doctor's examination in Los Angeles on Thursday revealed no fracture or concussion.
Mozgov is doubtful against the Warriors as he recovers what the Lakers are calling a "soft tissue contusion around his left eye."
Rookie Ivica Zubac made his NBA regular-season debut in Atlanta, starting in Mozgov's place. The 32nd overall pick of June's draft scored six points in almost 19 minutes while tallying four fouls. Matching up against former Laker Dwight Howard was a challenge; Howard finished with 31 points and 11 rebounds, but no blocked shots.
Zubac scored the Lakers' first four points against the Rockets, already showing a sweet touch on his hook shot. The 19-year old rookie is a fan favorite in Los Angeles with his innocent and exuberant demeanor. The Lakers will need to work through Zubac's inexperience while Mozgov is sidelined, but the team's front office is excited by his potential.
Tarik Black filled in 16 minutes as the backup center against the Rockets, while power forwards Randle and Nance played together in the frontcourt for roughly 13 minutes.
Before the season, Nance was eager to see if Walton would pair him with Randle in a small-ball lineup.
"I think that would be a really tough tandem to stop," said Nance. "Two athletic, slashing forwards that can really get on it on the defensive end and push the ball… That's pretty scary. I really hope that's a lineup we experiment with."
The two got the job done against Paul Millsap and Howard of the Hawks, especially defensively. They will likely get another opportunity on Friday against the Warriors, who also like to go small. 
Improvement is Imperfect
According to NBA.com, the Lakers have averaged 107.2 points a game, ninth in the league. Defensively, the team is 26th overall in points allowed (110.8). The Lakers average 20 points a game off turnovers, tied with the Memphis Grizzlies for fourth in the NBA. Conversely, the Lakers give up 23 points off turnovers to their opponents, second-worst overall.
The Lakers can score, and they'll get steals, but they'll also turn it over too often and struggle to stop their opponents.
Los Angeles is seventh in second-chance points at 15.2 but dead last in opponents' scoring at 19.2. They are tied for ninth with the Detroit Pistons at 15 fast-break points a game but sixth-worst in allowing 19.2. The Lakers score 45.2 points in the paint per game (13th-best) but yield 52.8, second-to-last.
Clearly, they have made many positive strides offensively since last season, including improving their shooting as a team to 45.7 percent from the field from 41.4.
Still, the Lakers need to significantly reduce turnovers from their 18 per game. Defensively, the group needs to do a better job protecting the paint—fewer turnovers would help keep opponents out of transition.
Lakers Locking Up Roster for Long Term
Last week, the Lakers picked up the third-year options on Russell's and Nance's contracts, along with the fourth-year option on Randle's.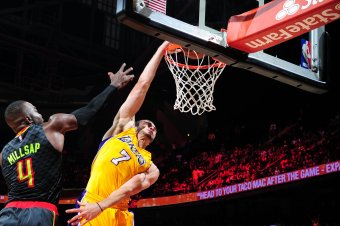 Scott Cunningham/Getty Images

The decision was a clerical one. Only the first two years of rookie-scale contracts for first-round picks are guaranteed. The third and fourth are separate team options that need to be decided by Halloween. The Lakers are now committed to paying Russell $5.6 million for next season, while Nance will earn $1.3 million and Randle $4.1 million.
According to Basketball Insiders, only six rookie-scale options were declined around the league.
The Lakers now have eight players with fully guaranteed contracts for the 2017-18 season, including Luol Deng, Clarkson, Williams and Mozgov. Both Tarik Black and Marcelo Huertas are signed through 2018, but their contracts are non-guaranteed.
Additionally, Young can opt out of the final year on his contract at $5.7 million.
D-Fenders Open Training Camp
The Los Angeles D-Fenders, the Lakers' NBA Development League affiliate, opened training camp on Wednesday. Last season, the team was one win away from the D-League title, falling to the champion Sioux Falls Skyforce.
Casey Owens, who coached the 2015-16 squad, has since been promoted to Walton's bench and works as an advance scout. Coby Karl, son of longtime NBA coach George Karl, was hired to replace Owens with the D-Fenders.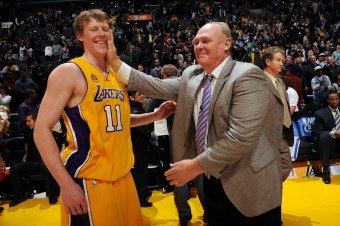 Andrew D. Bernstein/Getty Images

Karl played with the Lakers through the 2007-08 seasons.
The D-Fenders will feature Travis Wear and Julian Jacobs, who both went to Lakers training camp last month. The team also has several core players returning, including Josh Magette, Vander Blue and Justin Harper.
Magette, who recently went through training camp with the Hawks, is one of the D-League's top point guards. Blue is a high-volume wing scorer, and Harper is a power forward who can stretch the floor with his jumper. Wear gives the D-Fenders another shooting power forward, while Jacobs is an aggressive on-ball defender at the point.
The Lakers currently have a full roster with 15 players, but if a spot does open, the team may look to the D-Fenders for a call-up.
All quotes were obtained firsthand unless otherwise noted. Stats are accurate as of November 3. Email Eric Pincus at eric.pincus@gmail.com and follow him on Twitter @EricPincus.