With the chaos on the waiver wire settled, the time has come for fantasy football owners to buckle in and make the critical start 'em, sit 'em decisions for Week 4.
Matchups once again will decide most encounters. Last week, to sample both ends of the spectrum, Green Bay Packers quarterback Aaron Rodgers torched the Detroit Lions in an obvious plus-matchup, totaling 26 points. Cam Newton of the Carolina Panthers entered a miserable matchup against the Minnesota Vikings and scored 12.
This week offers similar must-play affairs and potholes to swerve around. Let's provide an assist by comparing some of the top matchups of the week and zooming on those to exploit and avoid. 
Quarterback
| | |
| --- | --- |
| Matthew Stafford (at CHI) vs. Jameis Winston (vs. DEN) | Matthew Stafford |
| Trevor Siemian (at TB) vs. Dak Prescott (at SF) | Trevor Siemian |
| Kirk Cousins (vs. CLE) vs. Joe Flacco (vs. OAK) | Kirk Cousins |
| Tyrod Taylor (at NE) vs. Eli Manning (at MIN) | Eli Manning |
| Andrew Luck (at JAC) vs. Cam Newton (at ATL) | Cam Newton |
Author's opinion
Matchup to Exploit: Cam Newton, CAR (at ATL)

Bob Leverone/Associated Press

Newton won't slump for long.
The 12 points were an obvious hiccup to see coming despite outbursts of 20 and 29 points to start the year. Expect another 20-plus showing against the Atlanta Falcons this weekend in an NFC South showdown.
Newton hit the Falcons for more than 20 points in one encounter last year. The caveat? Atlanta looks even worse against quarterbacks this year, having allowed a minimum of 24 points to every opposing quarterback faced and 10 total passing touchdowns over three games.
So, no, owners shouldn't doubt Newton after needing to slap him on the pine a week ago.
Unlike Newton, owners shouldn't expect Pittsburgh Steelers quarterback Ben Roethlisberger to return to form in Week 4.
Roethlisberger looked miserable at best last weekend on the road in a loss to the Philadelphia Eagles. He totaled six points and didn't throw a score, a stat line that might be accurate of his impending encounter against the Kansas City Chiefs.
Those Chiefs allow the second-fewest points on average to quarterbacks this year and picked off six passes in Week 3. Big Ben won't throw six interceptions, but he'll do plenty of handing the ball off to the returning Le'Veon Bell.
Kansas City has allowed two passing scores so far. The number might remain the same, so Big Ben is a star to avoid.
Running Back
| | |
| --- | --- |
| LeSean McCoy (at NE) vs. Todd Gurley (at ARI) | LeSean McCoy |
| LeGarrette Blount (vs. BUF) vs. Carlos Hyde (vs. DAL) | LeGarrette Blount |
| Christine Michael (at NYJ) vs. Ezekiel Elliott (at SF) | Ezekiel Elliott |
| Melvin Gordon (vs. NO) vs. Lamar Miller (vs. TEN) | Melvin Gordon |
| Charles Sims (vs. DEN) vs. David Johnson (vs. LA) | David Johnson |
Author's opinion
Matchup to Exploit: C.J. Anderson, DEN (at TB)
Denver Broncos running back C.J. Anderson looks like another perfect rebound candidate in Week 4.
Anderson fell on his face last week, totaling three points in an obviously terrible matchup against a strong Cincinnati Bengals defense. Before the dud, he had totaled 25 and 14 points, the former coming against Carolina's elite defense.
The Tampa Bay Buccaneers should help Anderson get back to form. The unit has allowed 15, 24 and 23 points to opposing backfields this year alongside three rushing scores.
Given the fact Denver shouldn't have a problem hopping out to a lead on the Buccaneers, Anderson should see plenty of volume to help him get to where owners want him.
Matchup to Avoid: Matt Forte, NYJ (vs. SEA)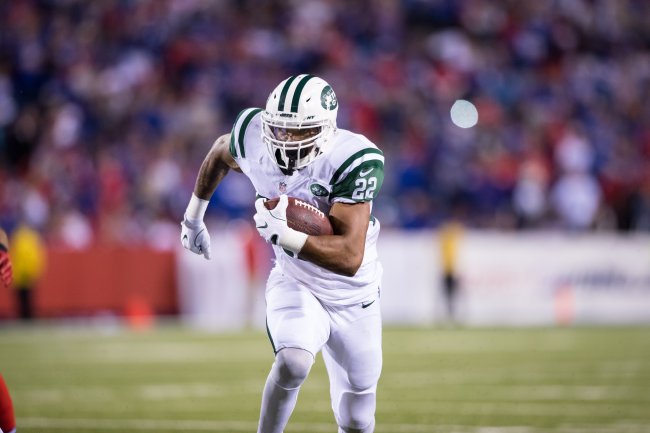 Brett Carlsen/Getty Images

Owners can go one of two ways with New York Jets running back Matt Forte. 
The first is to feel optimism with the workhorse even though he's coming off a six-point performance last week. In other games he has scored 14 and 28 points and the volume hasn't wavered. As a bonus, the Seattle Seahawks just coughed up 25 points to San Francisco 49ers running backs last week.
The second is to feel the bulk of Forte's production has come in one game. A game against Seattle in Week 4 doesn't help, especially when one keeps in mind San Francisco backs should always run well given the knowledge and understanding of a fierce divisional rivalry. 
It's best if owners go with option No. 2 here. Forte could pull another big game out of his hat, but before the choke against a rival team, Seattle had only allowed 17 total points to opposing backs over two games, which included shutting down a name like Los Angeles Rams running back Todd Gurley.
Wide Receiver
| | |
| --- | --- |
| Marvin Jones (at CHI) vs. Emmanuel Sanders (at TB) | Marvin Jones |
| Terrelle Pryor (at WAS) vs. Sterling Shepard (at MIN) | Terrelle Pryor |
| T.Y. Hilton (at JAC) vs. Doug Baldwin (at NYJ) | Doug Baldwin |
| Mike Evans (vs. DEN) vs. Allen Robinson (vs. IND) | Mike Evans |
| Antonio Brown (vs. KC) vs. Odell Beckham Jr. (at MIN) | Antonio Brown |
Author's opinion
Matchup to Exploit: Doug Baldwin, SEA (at NYJ)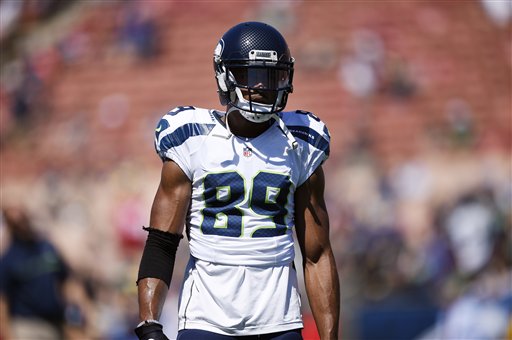 Kelvin Kuo/Associated Press

A year ago, suggesting owners trot out Seattle Seahawks wide receiver Doug Baldwin against Darrelle Revis of the Jets would have been downright silly.
Not anymore.
Revis Island is open for business, with the Jets allowing the seventh-most points to wideouts on average. Two sets of opposing wideouts have hit cruise control on the way to the destination, going for 34 or more points.
As for Baldwin, he's the owner of two outings at 15 or more points, the exception a rough matchup in Los Angeles. This isn't even close to the same degree of difficulty, so feel free to prop Baldwin on a flight to the island and don't fret over it again.
Matchup to Avoid: Allen Robinson, JAC (vs. IND)
Look, it is no fun to bench a guy who just posted two touchdowns and 17 points. 
Such is what owners should do with Jacksonville Jaguars wideout Allen Robinson against the Indianapolis Colts, though.
The Colts have yet to allow a touchdown to a receiver this year. Totals of 15, 19 and 15 points sound like a ton given up to opposing wideouts, but keep in mind that came on 15, 14 and 13 catches, respectively, while facing strong passing offenses such as Detroit, Denver and San Diego.
Robinson might also be the exception to the divisional rivalry logic mentioned above. Last year, he tallied all of six and eight points against the Colts over two games.
If that's not enough to deter Robinson owners, well, good luck.
Tight End
| | |
| --- | --- |
| Zach Miller (vs. DET) vs. Cameron Brate (vs. DEN) | Zach Miller |
| Jimmy Graham (at NYJ) vs. Travis Kelce (at PIT) | Travis Kelce |
| Kyle Rudolph (vs. NYG) vs. Gary Barnidge (at WAS) | Kyle Rudolph |
| Greg Olsen (at ATL) vs. Eric Ebron (at CHI) | Greg Olsen |
| Jordan Reed (vs. CLE) vs. Dennis Pitta (vs. OAK) | Jordan Reed |
Author's opinion
Matchup to Exploit: Jason Witten, DAL (at SF)
Like a year ago, it has been tough to trust Dallas Cowboys tight end Jason Witten without Tony Romo under center. 
Also like a year ago, some matchups are simply too juicy to ignore.
Witten gets the 49ers this weekend, a defense that has allowed 109 yards or more and a touchdown to opposing tight ends over its past two games, good for outings of 18 and 14 points by those groups.
With rookie Dak Prescott under center or not, Witten could come close to those numbers on his own despite no trips to double digits yet to start the season. Such knowledge about San Francisco in hand, rest assured Dallas will look to Witten often in scoring range.
Matchup to Avoid: Hunter Henry, SD (vs. NO)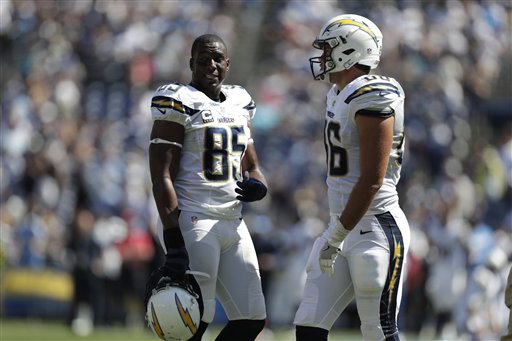 Ryan Kang/Associated Press

The San Diego Chargers passing attack against the New Orleans defense seems like a money play.
Yet at tight end, San Diego will likely trot out rookie Hunter Henry in place of the injured Antonio Gates. In place of the veteran last week against the Colts, the Arkansas product mustered five points.
Were this an easier matchup, the advice would be to have at it. But this one is deceptive—it's almost exclusively opposing wideouts doing the damage to the New Orleans defense. The Saints have only allowed 12 catches to opposing tight ends over three games, equating to seven points surrendered.
All scoring info and statistics courtesy of ESPN.com standard leagues, as are points-against info and ownership stats.
Follow Chris Roling (@Chris_Roling) on Twitter.